Phil Bondelli
Jump to navigation
Jump to search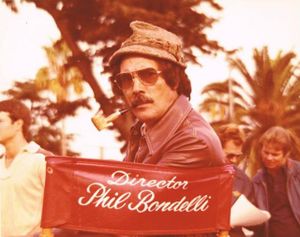 Phil Bondelli was born December 10, 1927 in Chicago, Illinois. He was the director for 22 episodes (more than 15%) throughout all six seasons of "CHiPs". He started out as an assistant director on The Mod Squad and quickly made his way to the director's chair. In addition to "CHiPs", he directed several well known television shows, including The Six Million Dollar Man, Charlie's Angels, Fantasy Island, and T.J. Hooker.
In the late 1990's, Phil contacted "CHiPs" Online and provided some background insight into some of the "CHiPs" episodes he directed.
Phil passed away on January 31, 2011 in Mesa, Arizona at age 83.
Credits
Director
Outlaws (TV-1986)
Cover Up (TV-1984)
Masquerade - "Spanish Gambit" (TV-1984)
Masquerade - "Flashpoint" (TV-1984)
Masquerade - "Pilot" (TV-1983)
Blue Thunder - "The Long Flight" (TV-1984)
"CHiPs" - "Return of the Brat Patrol" (TV-1983)
"CHiPs" - "Fast Company" (TV-1983)
"CHiPs" - "High Times" (TV-1983)
"CHiPs" - "Day of the Robot" (TV-1983)
"CHiPs" - "11-99: Officer Needs Help" (TV-1981)
"CHiPs" - "Crash Course" (TV-1981)
"CHiPs" - "Satan's Angels" (TV-1980)
"CHiPs" - "Christmas Watch" (TV-1979)
"CHiPs" - "Pressure Point" (TV-1979)
"CHiPs" - "Supercycle" (TV-1978)
"CHiPs" - "Trick or Trick" (TV-1978)
"CHiPs" - "Neighborhood Watch" (TV-1978)
"CHiPs" - "Family Crisis" (TV-1978)
"CHiPs" - "Peaks and Valleys" (TV-1978)
"CHiPs" - "Hitch-Hiking Hitch" (TV-1978)
T.J. Hooker - "Vengeance Is Mine" (TV-1983)
T.J. Hooker - "Terror at the Academy" (TV-1982)
Walking Tall - "The Fire Within" (TV-1981)
240-Robert - "The Applicant" (TV-1979)
240-Robert - "Models" (TV-1979)
240-Robert - "Bathysphere" (TV-1979)
240-Robert - "The Apology" (TV-1979)
Vega$ (TV-1978)
Fantasy Island (TV-1978)
Code R" - Episode dated 4 February 1977 (TV-1977)
Charlie's Angels - "To Kill an Angel" (TV-1976)
Charlie's Angels - "Angels in Chains" (TV-1976)
The Bionic Boy (TV-1976) (TV)
The Bionic Woman - "Winning Is Everything" (TV-1976)
The Bionic Woman - "Claws" (TV-1976)
The Rookies - "Sudden Death" (TV-1976)
The Rookies - "The Code Five Affair" (TV-1975)
The Rookies - "The Voice of Thunder" (TV-1975)
The Rookies - "Dead Heat" (TV-1975)
The Rookies - "Measure of Mercy" (TV-1975)
The Rookies - "Death Lady" (TV-1975)
The Rookies - "Reading, Writing and Angel Dust" (TV-1975)
The Rookies - "Nightmare" (TV-1975)
The Rookies - "A Deadly Image" (TV-1975)
The Rookies - "The Saturday Night Special" (TV-1975)
The Rookies - "The Assassin" (TV-1974)
The Rookies - "Vendetta" (TV-1974)
The Rookies - "Prelude to Vengeance" (TV-1974)
The Rookies - "Judgement" (TV-1974)
The Rookies - "Key Witness" (TV-1974)
Switch (TV-1975)
S.W.A.T. (TV-1975)
Get Christie Love! (TV-1974)
The Six Million Dollar Man (TV-1974)
Chopper One (TV-1974)
Assistant Director
The Mod Squad - "Eyes of the Beholder" (TV-1972)
The Mod Squad - "A Time of Hyacinths" (TV-1970)
External links