Crash Course
Jump to navigation
Jump to search
Crash Course
Episode #
409
Air Date
January 4, 1981
Briefing
Getaway driver Sonny Matson is back on the streets.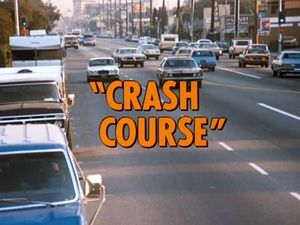 Brief Plot
Jon and then Turner are involved in accidents pursuing recently released getaway driver Sonny Matson. Ponch has financial problems after his bank makes an error with his account.
Plot
A girl witnesses someone steal a car behind the Greyhound terminal. He then goes to a drive thru window and robs them. In his escape, another car crashes into him but he takes off again while Ponch and Jon chase him and the theme begins.
When the car turns into an alley, he backs up and Jon swerves to avoid him and has a minor spill. Later, Ponch visits the bank to tell them he's got $4500 extra. "An error as little as six cents can throw us into turmoil for weeks."
After the briefing, Sarge tells Ponch that his rent check bounced. Meanwhile, Sonny Matson steals a hot rod and is (unsuccessfully) chased by the owner. When Ponch returns to the bank, he doesn't get any answers.
When Matson pulls off another robbery, Turner chases them and is soon joined by Ponch and Jon. When Turner swerves to avoid a school bus, he flips his cruiser. At Ponch's apartment, Bonnie finds that the bank forgot to add one of Ponch's paycheck deposits. Meanwhile, Matson shows off his escape method of rolling the car.
Back at Ponch's bank, he can't get the error fixed until he asks if Mr. Burns walks or drives to work. Meanwhile, Matson steals another car and has it equipped with jets.
At Ponch's bank (yet again), Ponch and Jon go see the manager, Ms. Rogers. While attempting to finally fix the problem, Matson shows up at the bank with his assistant Dyle. While Ponch distracts Dyle, Jon puts the cuffs on him. Bonnie chases Matson in his car while Ponch and Jon take a shortcut. When Ponch and Jon cut him off, he hits the jets and loses control and crashes. Ponch and Jon make the arrest.
Back at the bank once more, Ponch deposits his $405 paycheck (asking for $20 cash but getting $20.06 cash for some reason). Ponch leaves the bank after secretly slipping the 6 cents into the teller drawer
Guest Stars
Co-Starring
Featuring
Crew
Fun Facts
Fourth and last CHiPs appearance of Alyscia Maxwell. She previously appeared in High Octane, Return of the Turks and Cry Wolf.
The opening shot of Jon and Ponch riding past a motel sign originally appeared just after the crash scene in Mait Team in season 2.
Mistakes
The Dodge Charger at the beginning is blue and Jon even says it's blue when they start the pursuit, but when Ponch calls in to report that they've lost the car, the dispatcher tells them the green Charger was reported stolen.