Paul Linke
Jump to navigation
Jump to search

Paul Linke (Officer Arthur Grossman) was born in 1948. In 1978, he married Francesca Drapier. They had three children together. In 1986, Francesca died of cancer. This prompted Paul to create a one-man play on HBO dealing with his work on "CHiPs" and his wife's bout with cancer. Details are available in his book, Time Flies When You're Alive: A Real-Life Love Story.
In 1991, he married his current wife, actress Christine Healy. They had one child together.
Paul Linke has appeared as a pawn shop owner in an episode of Hunter. He was also sighted, but not properly accredited, as a sheriff in the Wynona Ryder movie Welcome Home Roxy Carmichael. During his Happy Days appearance, his character wanted to beat up Ralph because of gambling debts...but Fonzie came to Ralph's rescue.
Paul has also been on an episode of Beverly Hills 90210. It was in the first summer when Brandon was working at the beach club. He was playing tennis against some old guy that was cheating on his wife.
Starring Roles
The Baby Maker (1970) [Sam]
Big Bad Mama (1974) [Bank Teller]
The Strongest Man in the World (1975) [Porky (Student)]
Grand Theft Auto (1977) [Collins Hedgeworth]
"CHiPs" (TV-1977-83) [Officer Arthur Grossman]
Motel Hell (1980) [Bruce Smith]
Heart Like a Wheel (1983) [Reporter #2]
Space Rage: Breakout on Prison Planet (1985) [Duffy]
KGB: The Secret War (1986) [Frank]
Into the Homeland (TV-1987) [Red Hughes]
Funny Farm (1988) [Caroler]
Hooperman (TV-1988-1989) [T.J.]
Parenthood (1989) [George Bowman]
The Dreamer of Oz (TV-1990) [Opie Read] (uncredited)
Fire! Trapped on the 37th Floor (TV-1991)
Jonathan: The Boy Nobody Wanted (TV-1992)
The Fear Inside (TV-1992) [Carl Landers]
Where Are My Children? (TV-1994)
Shrunken Heads (1994) [Mr. Larson]
Lady In Waiting (1994) [Max]
Danielle Steel's 'Family Album' (TV-1994) [Wardrobe Man]
Awake to Murder (TV-1995)
Every Woman's Dream (TV-1996)
No One Would Tell (TV-1996)
Friends 'Til the End (TV-1997) [Detective]
Killing Mr. Griffin (TV-1997) [Coach]
Thirst (TV-1998)
"CHiPs" '99 (TV-10/27/1998) [Det. Arthur Grossman]
Guest Appearances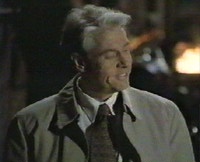 Happy Days (TV-197?) [Bruiser]
St. Elsewhere (TV-11/9/1983) "Newheart"
St. Elsewhere (TV-10/8/1986) "A Room With a View"
Quantum Leap (TV-1989) "Play It Again, Seymour"
Quantum Leap (TV-1990) "The Boogieman" [Ben Masters - Sheriff]
The Flash (TV-10/25/1990) "Honor Among Thieves" [Ted Preminger]
Hunter (TV-12/12/1990) "Acapulco Holiday"
Beverly Hills, 90210 (TV-7/18/1991) "The Party Fish"
Melrose Place (TV-12/19/1994) "Holiday On Ice"
Lois and Clark (TV-1996) "I Now Pronounce You..." [Lex Luthor]
Lois and Clark (TV-1996) "Double Jeopardy" [Lex Luthor]
External Links