Michael Dorn
Jump to navigation
Jump to search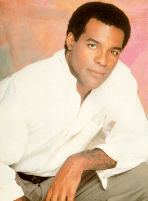 Michael Dorn (Jeb Turner) was born on December 8, 1952 and is best known for portraying Lieutenant Commander Worf, a Klingon graduate of Starfleet Academy, for seven seasons of Star Trek: The Next Generation. During the fourth season of Star Trek: The Next Generation, Michael also portrayed Lt. Worf's grandfather in the feature film release of Star Trek VI. In doing so, Michael became the first Star Trek: The Next Generation cast member to work with the cast of the original series in a Star Trek feature. He also joined his fellow Star Trek: The Next Generation cast members in the feature films Star Trek Generations, Star Trek: First Contact, Star Trek: Insurrection, and Star Trek: Nemesis. In 1995, Michael joined the cast of Star Trek: Deep Space Nine where he starred as Worf until the end of the series in 1999.
After accepting the part on DS9, Michael Dorn was quoted as saying, "I'm very happy to be back on the Paramount Lot, which was my home-away-from-home for seven great years and where I'm planning to be for a good part of the next three. And now that I have a chance, I'd like to thank all the online fans who've always supported me and my work. Let me know how you think I'm doing on DS9."
Michael is a licensed pilot and owns several aircraft, including an old Air Force T-33 trainer jet, one of the first jet aircraft in the US inventory; it's often referred to as his "starship." He has flown with the Blue Angles and the USAF Precision Flight team.
He doesn't like to talk about "CHiPs" at his rare Star Trek convention appearances...so be sure to ask him about it! Dorn also can be heard doing voice-overs for many TV commercials (including a 1996 ad for Neutrogena T-Gel with the infamous line, "Hypercaletosis?")
Starring Roles
Demon Seed (1977) [Bit] (uncredited)
"CHiPs" (TV-1979-1982) [Officer Jeb Turner]
Rocky II (1979) [Bit Part] (uncredited)
Jagged Edge (1985) [Dan Hislan]
Days of Our Lives (TV-1986-1987) [Jimmy]
Star Trek: The Next Generation (TV-1987-94) [Lieutenant Worf]
Star Trek VI: The Undiscovered Country (1991) [Colonel Worf] (uncredited)
Star Trek: Conversational Klingon (Audio Book-1992) [Reader]
"Gabriel Knight: Sins of the Fathers" (Video Game-1994) [Dr. John] (voice)
The Fantastic Four (TV-1994) [Gorgon] (voice)
Star Trek Generations (1994) [Lt. Cmdr. Worf]
"Star Trek: The Next Generation - A Final Unity" (Video Game-1995) [Lt. Worf] (voice)
Star Trek: Deep Space Nine (TV-1995-1999) [Lt. Cmdr. Worf]
"Mission Critical" (Video Game-1995) [Commander Dana]
Timemaster (1995) [Chairman]
Amanda & the Alien (TV-1995) [Vint]
Hauntings Across America (1996)
Virtual Combat (1996) [Virtual Voice of Dante] (voice)
"Star Trek: Klingon" (Video Game-1996) (voice)
The Klingon Way: A Warrior's Guide (Audio Book-1996) [Lt. Cmdr. Worf]
Menno's Mind (1996) [Simon]
Captain Simian and the Space Monkeys (TV-1996) [Nebula] (voice)
Wing Commander Academy (TV-1996) [Alien]
Star Trek: First Contact (1996) [Lt. Cmdr. Worf]
"Star Trek Generations" (Video Game-1997) [Lt. Worf] (voice)
Cow and Chicken (TV-1997) [I.M. Weasel] (voice)
"Fallout 2" (Video Game-1998) [Marcus/Special Agent Frank Horrigan] (voices)
The Girl Next Door (TV-1998) [Lieutenant Steve Driscoll]
Star Trek: Insurrection (1998) [Lt. Cmdr. Worf]
Trekkies (1999)
"Star Trek: Armada" (Video Game-1999) [Lt. Commander Worf]
I.M. Weasel (TV-1999) [I.M. Weasel] (voice)
The Prophet's Game (1999)
Guest Appearances
The Mary Tyler Moore Show (TV-197?) [Newsroom staff]
Gimme a Break! (TV-198?) [Passenger on plane]
Hunter (TV-12/7/1985) "Waiting for Mr. Wrong" [highway patrolman]
The $25,000 Pyramid (TV-10/19-23/1987)
227 (TV-198?) [Sandra's date]
Parker Lewis Can't Lose (TV-199?) [Garage sale shopper who complains about phasers On a model Enterprise]
Dinosaurs (TV-1991) [Solomon] (voice)
The Outer Limits (TV-6/30/1995) "The Voyage Home" [Pete Claridge]
Gargoyles (TV-11/23/1995) [Coldstone] (voice)
Star Trek: Deep Space Nine (TV-11/25/1995) "Our Man Bashir" [Duchamps]
Gargoyles (TV-2/14/1996) [Taurus] (voice)
Gargoyles: The Goliath Chronicales (TV-1996) "Seeing Isn't Beleiving" [Taurus] (voice)
Superman (TV-1997) "Prototype" [John Henry Irons] (voice)
Superman (TV-1997) "Heavy Metal" [John Henry Irons/Steel] (voice)
Superman (TV-1997) "Father's Day, Apokolips... Now! Parts I & II" [Kalibak] (voice)
Jonny Bravo (TV-199?) (voice)
Star Trek: Deep Space Nine (TV-2/7/1998) "Far Beyond the Stars" [Willie Mays]
Dead Man's Gun (TV-10/30/1998) "The Pinkerton" [John Eastman]
Published Works
External Links