Return of the Turks
Jump to navigation
Jump to search
Return of the Turks
Episode #
210
Air Date
November 25, 1978
Briefing
?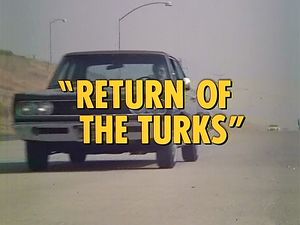 Brief Plot
Ponch gets a commendable incident report for issuing 278 citations in a month, but he doesn't remember writing all of them. When Ponch and Getraer go through the tickets, they realize that many have the same serial number. A couple of Ponch's high school buddies cause chaos by bumping into dozens of cars on the freeway.
Plot
Jon returns from some time off to learn that Ponch got a record number of 278 citations in one month. Then they respond to a call of an officer down and find he limped off. After the theme, Ponch and Jon stop a van and find out the driver is one of Ponch's high school buddies. Later, two of Ponch's buddies are out on the highway ram 22 cars and lose control. When Ponch and Jon chase them, they refuse to stop. They manage to lose Ponch and Jon so they park the car, take the plates off, and run. While Ponch and Jon are at lunch, Jon talks about his previous partner Gary who died chasing a speeding car. Gary's brother Pete works at the place where they were eating. Back at central, Sarge withdraws Ponch's commendable incident report when he finds out that not all of the citations were Ponch's...some were faked. The next day, one of Ponch's friends (Rudy) decides to try to ram more than 22 cars. He ends up causing an ambulance carrying a girl in an iron lung to overturn. As our heroes arrive, the fake CHP leaves. Ponch pumps the lung in the ambulance while Jon tries to keep pipes from crushing the ambulance. The pipes are finally lifted and the girl is transferred to an upright ambulance. Later Ponch responds to a stalled vehicle, and Jon watches the fake CHP. Back at central, Jon figures out that Pete got ahold of one of Ponch's citations to copy and that he has been acting as a CHP. Jon follows him the next day in his truck...speeding past him on the highway and getting pulled over. Pete explains that he thinks its his fault that his 28-year old brother Gary is dead. Jon arrests Pete and tells him to turn himself in the next day. Later, Ponch and Jon chase after Rudy when he's out playing bumper cars on the freeway. They find him hiding in a junkyard. To keep him from escaping, Jon almost kills him with a forklift. The next day, Ponch and Jon find out that Pete turned himself in and will probably just end up on probation. They also help the girl in the iron lung celebrate her birthday.
Guest Stars
Also Starring
Co-Starring
Featuring
Crew
Fun Facts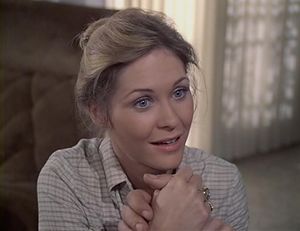 Dee Wallace, who plays Angy, also played the mother in the 1982 film, E.T.: The Extra Terrestrial.
Alyscia Maxwell also appears in the Season 1 episode, "Cry Wolf" and the Season 3 episode, "Nightingale."
When Jon and Ponch lose the blue car, they end up ouside The Culver Hotel in Culver City. Just before the chase ends, you can briefly see an awning from Adam's Hotel. This used to stand opposite the Culver Hotel on the corner of Main Street and Washington Blvd, but was demolished in the late '80s after a fire (the intersection is now much wider). View in Google Maps
Mistakes
The ambulance that rolls on it's side has no emergency lights on top when we first see it. In subsequent shots, it has a red/blue lightbar.
Watch for a white Pontiac Bonneville during the "Freeway Boppings." It is hit hard on the drivers front during the first round with Rudy. In the last round, it is seen again getting hit on the passenger side and sliding down an embankment. After Sid gets out of Rudy's car, The same Bonneville gets rear ended and slides down yet another embankment.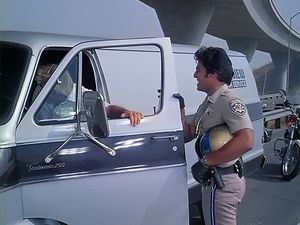 Two banks of lights are reflected in the door of Sid's van as he says goodbye to Ponch in the pre-titles scene.
As Rudy moves up to sideswipe the brown Mazda (the first car he hits), the front fender of the Mazda shows damage in the forward-looking shot from inside Rudy's car, even though the first impact in that area doesn't occur until a few seconds later.
The interior of the overturned ambulance is obviously a set, with wooden rear doors and square windows.
Buy this Episode