High Octane
Jump to navigation
Jump to search
High Octane
Episode #
304
Air Date
October 6, 1979
Briefing
?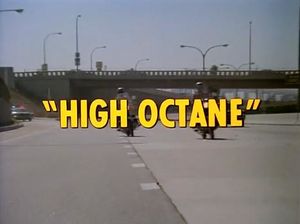 Brief Plot
Crooks are stealing gas from local stations and re-selling it. Getraer gets taken out and injured while in pursuit. Roller hockey: Central vs. West L.A.!
Plot
While Ponch and Jon resolve a confrontation at a gas station, Grossie and Getraer come across an accident caused by an oil truck. The unsuspecting oil truck drivers think Getraer is after them because they stole the oil. They let out the oil on the highway and Getraer skids on it and falls over in the flaming oil.
After the theme, Ponch and Jon find Grossie near Getraer's burned motorcycle. Getraer is put in an ambulance and taken to the hospital. Just after Grossie describes the NET-OIL truck, we see the thieves removing the sign from it. After visiting Getraer in the hospital, Ponch and Jon chase a car that stole a gas station's gas. Turning a corner, Jon flies off his motorcycle. Luckily he's fine and Ponch catches the driver of the car.
That night, Ponch dates a girl who works at a gas station and finds out when the line starts to form. Across town, the thieves are sucking up gas when the station owner arrives. They drive off trailing gas behind.
The next day, Ponch and Jon are out looking for a gas truck with a missing mud guard. When they pull over for a rest, they see a car that's swerving and hitting other cars. They get the driver out when he drives up a hill. He was transporting gas inside with him and got woosy. Just as they get him out, the car explodes. After the briefing, Ponch is the referee for a roller hockey match between Central and West L.A. CHP sponsored kids. Ponch calls high-sticking on Central and they lose 4 to 5. After Ponch and Jon fuel up in the early morning, they go on patrol and then return to Central to do reports.
Meanwhile, the gas suckers are at it again. Sindy is staking out the suspicious gas station and calls in Ponch and Jon to catch the truck while she handles the station. Ponch and Jon chase the truck and it ends up crashing into a newly painted house and explodes in one of "CHiPs"'s greatest explosions.
After putting the thieves away, it's the Central CHP vs the West CHP officers in roller hockey. We never find out who won, but the last we see, Central is ahead 3 to 2.
Great Quote
Ponch tries to get a response from Getraer after the accident: "Joe, can you hear me?" "Good ol' Poncherello. One of my finest officers." "He's delirious. Get him outta here."
Guest Stars
Also Starring
Co-starring
Featuring
Crew
Fun Facts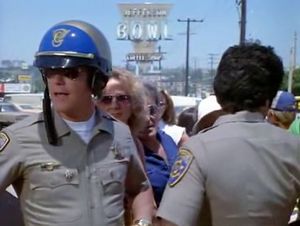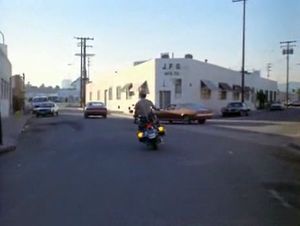 Mistakes