Forty Tons of Trouble
Jump to navigation
Jump to search
Forty Tons of Trouble
Episode #
410
Air Date
January 11, 1981
Briefing
Ring of thieves stealing construction equipment.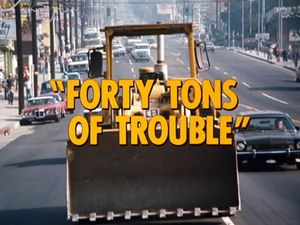 Plot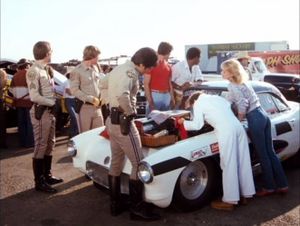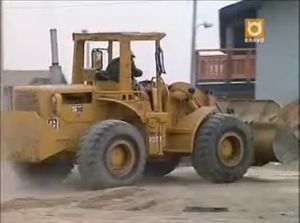 At the drag strip, someone steals a bulldozer but jumps off when the brakes fail. The bulldozer pulls out into traffic behind Grossie. Jon hops on it and crashes it into a building. Back at the drag strip, a driver blows his engine. He and his buddies decide to steal the parts. At the strip again, we learn the CHP chipped in to get a car...except Grossie didn't contribute.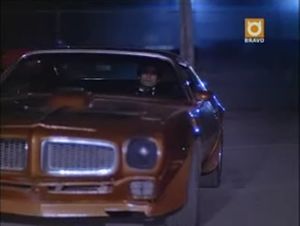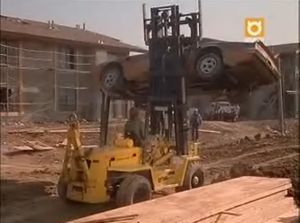 Meanwhile, the thieves start to get worried when. they realize they took some CHP parts. Harlan tells everyone of their misfortune at the briefing. Their next time on the strip, the thieves blow a tire so they steal more. After talking with a woman who had construction equipment stolen, Ponch spots the van that was used to escape by the thieves. He follows it. The next day, the thieves are at the woman's construction site again while Ponch and Jon attempt to catch them, one of them tries to escape in a forklift. He tries to kill Ponch with a forklift. (But he only "kills" Ponch's car!)
After Jon and Turner catch the guy, Grossie tells them he found their missing parts. Jon and Getraer chase two thieves while Ponch (in the "CHiPs" dragster) chases the thief in the other dragster. Ponch manages to stop him by opening his 'chute in front of the guy.
Guest Stars
Co-Starring
Featuring
Crew
Fun Facts
This episode was recorded four years before Robert Englund's most famous role as Freddy Krueger in A Nightmare on Elm Street.
Brotherhood Raceway Park was located on Terminal Island. It opened in 1974 and closed in the mid-90s to make way for a coal dock and container storage. No traces remain today. View in Google Maps
The Princess Louise was built in 1921 and became a floating restaurant in 1966, hosting up to 2,000 guests per day. She was originally berthed on Terminal Island, but moved to San Pedro in 1979. She closed in January 1989 and capsized in suspicious circumstances later that year.
The houses that Paula's building are now part of Ponderosa West on South Vermont Avenue. Some of the background houses between 204th Street and West Del Amo Boulevard were demolished around 1995. View in Google Maps
Ponch's car is now a 1970 Pontiac Firebird Trans Am fitted with 1972 grill which are filmed at the construction during the nighttime, and fitted with 1973 grill filmed during the chase scene during the daytime.
Ponch's mags are actually American Racing Hot Rod VN69 Ansen Sprint which are missing the center caps. View in American Racing
Mistakes
The first piece of construction equipment the thieves try to steal is a loader (as called out by Paula), but Grossman calls it a grader when he spots it in his rearview mirror. A grader has a long blade underneath and no bucket.
When the engine of the Bonanza AMX blows, it leaves debris on the track, but the track is clear when the pickup pulls up immediately afterwards.