240-Robert
Jump to navigation
Jump to search
240-Robert is a television show that originally aired in 1979 on ABC-TV.
240-Robert featured the heroic rescues of the Emergency Services Detail of the Los Angeles County Sheriff's Department. 240-Robert originally starred John Bennett Perry (Matthew Perry's father), Mark Harmon and Joanna Cassidy. Pamela Hensley and Stephan Burns were later added to the cast in season two.
Rick Rosner is the creator of 240-Robert.
Crossovers between "CHiPs" and 240-Robert do not really exist but in the episode "Aweigh We Go" Ponch and Jon are assisted, in the rescue of two car accident victims, by two LASO Emergency Services Detail deputies while in 240-Robert episode "Oil and Water" a CHP traffic officer (driving a slicktop '78 Dodge Monaco) assists the LASO deputies rescuing a hang glider.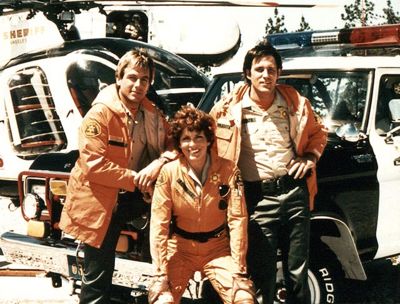 External Links