High Times
Jump to navigation
Jump to search
High Times
Episode #
613
Air Date
January 16, 1983
Briefing
?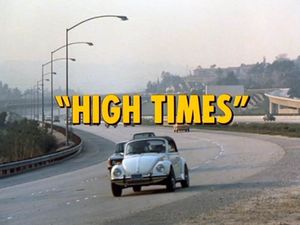 Brief Plot
Muscle cars are being stolen and Ponch and Bobby suspect a link to a local high school, so Bruce goes undercover as a student. A mysterious lady turns up at Central looking for Harlan.
Plot
Ponch and Bobby are on patrol when they hear a car alarm. They spot two kids stealing a car and chase after them. They get away after Bobby falls off his motor while avoiding an accident. Following up on a lead, Ponch and Bobby visit an arcade. Unfortunately there are "thousands" of guys who come to the arcade...most from a local prep school. Ponch goes to talk to a former auto-thief who now works in the auto shop at the school. Back at Central, Getraer decides to have Bruce go undercover at the school.
The next day, while Bruce is at school, Ponch and Bobby try to get information on the car thefts from a kid at a car wash. When Bruce leaves school, he's chased by two trucks. Ponch and Bobby finally catch up with Bruce as the trucks get away. They arrest Bruce to make it look good. At the arcade, Bruce learns that the car thieves are the guys that were chasing him. (Duh!) That night, Ponch and Bobby find a kid hot-wiring a car and chase him until he hits a fireworks truck.
Meanwhile, Bruce is at the "Grease Hop" at the school. After Danny Bonaduce gets selected King of the dance, Bruce gets captured by the car thieves. They bring him out into a van (and amazingly it's daylight!) and the auto shop teacher spots them. Ponch and Bobby show up at the right time and chase the van. They arrest the car thief and save Bobby (who is now consious). Everything turns out fine and Harlan is selling appliances in the briefing room.
Guest Stars
Co-Starring
Featuring
Crew
Fun Facts
Mistakes