Roller Disco
Jump to navigation
Jump to search
Roller Disco
Episode #
301
Air Date
1979
Briefing
?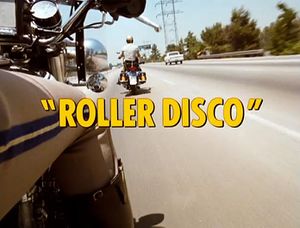 Brief Plot
Ponch has to find some celebrities to attend the annual CHP roller disco. Meanwhile, a trio on roller skaters are committing robberies near the beach.
Plot
Jon and Getraer ride together while Ponch is busy hunting down stars for the annual CHP roller disco.
At the pier, a kid observes someone steal a wallet and gets the idea of stealing some change from a woman on a pay phone. He escapes by grabbing onto a bumper of a station wagon. Jon and Getraer find the kid on the freeway and manage to stop the car after the theme. Ponch and Jon go and talk to Mark (the kid's) older sister. Ponch learns that Mark's sister teaches some celebrities how to roller skate so Ponch talks her into getting some for the CHP roller disco. Later, two guys cause an accident when they lower the rear end of their car and create sparks.
Following up on the accident, Ponch and Jon visit Jimmy Tyler in the hospital. He's a "big rock star" and Ponch has all his records. Ponch convinces his agent, Frank Balford, to help get some celebrities for the CHP roller disco. Later, the wallet thieves steal a belt pouch. When Ponch and Jon come to the rescue, they get knocked on their backs and the thieves escape on skates. After the briefing, Ponch is near the Beverly Hills Hotel looking at a map to the homes of the stars. A friendly man helps him and announces Jon's arrival with his famous "Heeeere's Johnny!" Ed McMahon drives off as Ponch realizes who he is.
Meanwhile, Jimmy gets upset with his agent and fires him. After he goes out driving because he's so upset, Ponch and Jon come across Grossie (who found Jimmy crying on the side of the freeway). Jon lets Jimmy stay at his apartment. Within a minute, Jimmy falls asleep. That afternoon, the roller skating thieves are at it again. They rob a jewelery store as Mark watches. Ponch and Jon each chase the skating men while the woman gets away.
As one heads to the beach, we see "To Be Continued"!
Guest Stars
Co-starring
Crew
Fun Facts
Mistakes