Bobby Nelson
Jump to navigation
Jump to search
Robert "Bobby" Torvald Nelson
Actor
Tom Reilly
Appears in
Season 6 (1982 - 1983)
Call Numbers
15 Mary 7
Badge Number
unknown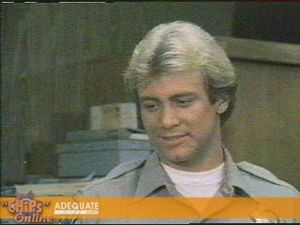 For a major character of the sixth season, not too much is known about Bobby Nelson.
He was assigned to the California Highway Patrol Central LA Area Office in 1982 and Frank Poncherello was assigned as his training officer. His "hot dogging" antics quickly earned him the nickname "Hot Dog".[1] Later, his younger brother, Bruce, joined the CHP and eventually became Ponch's new partner.
His middle name is Torvald. It was the name of his Danish great-great-grandfather. Bobby claims to be a descendant of the vikings.[1]
As of 1999, Bobby Nelson's whereabouts are unknown.
References