Randy Torno
Jump to navigation
Jump to search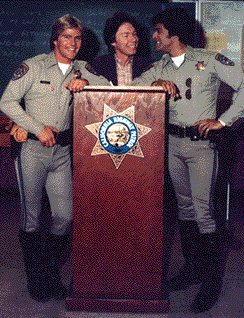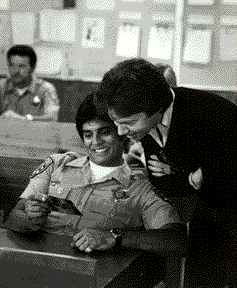 Randall Torno was an Associate Producer from Seasons 3 through 6) "I worked on every single episode in that time period including supervising the editing and sound mix and final versions of the episode."
Mr. Torno is currently Vice President of Production at Republic Pictures in Los Angeles where he has been since the late 80's. He worked on features such as RoboWarriors - a huge epic sci-fi movie which should be available at your local video store. (He worked under the pseudonym "Lucas George".) He is a part of Spelling Entertainment, so he's still loosely associated with TV.
Asked by "CHiPs" Online about working on the show, he said it "was like being part of a big family for all those years. Contrary to some peoples opinions I thought Erik was a terrific guy and we had a great relationship. Larry could be a bit testy sometimes, but that's actors for you. The rest of the cast, especially Robert Pine, were totally pros. The worst part of working there was trying to get Erik and Larry to re-record their lines in time to get the shows on the air. This was always necessary because we shot the shows out on the streets and they were always full of noise."
Credits
Post-Production Supervisor
Robo Warriors (1996)
Dream Man (1995)
A Dangerous Affair (TV-1995)
Born Too Soon (TV-1993)
Shadowhunter (TV-1993)
Child of Rage (TV-1992)
Somebody's Daughter (TV-1992)
One Against the Wind (TV-1991)
Posing: Inspired by Three Real Stories (TV-1991)
Separate But Equal (TV-1991)
Love, Lies and Murder (TV-1991)
Producer
No Night Is Too Long (TV-2002) co-producer
Diamond Girl (TV-1998) producer
This Matter of Marriage (TV-1998) producer
Hard to Forget (TV-1998) producer
"CHiPs" - "Battle of the Bands" (TV-1982) associate producer
Fame (TV-1982) associate producer
Visual Effects Producer
Video Assist Operator
Necessary Roughness (1991)
Editor
Sound Effects Artist
The Legend of Alfred Packer (1980)
External links