The Greatest Adventures of "CHiPs"
Jump to navigation
Jump to search
The Greatest Adventures of "CHiPs"
Episode #
223
Air Date
May 12, 1979
Briefing
Hot sheet info, Ponch and Jon nominated for an award, Grossman in charge of recording testimonials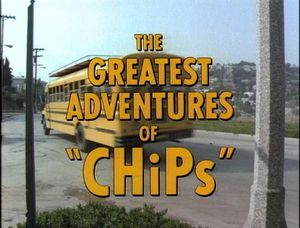 Brief Plot
While Ponch and Jon are in Sacramento teaching a seminar, Grossman collects anecdotes about the team from other officers so that - win or lose - they can give them a party.
Plot
Ponch and Jon are away in Sacramento teaching an ISTC seminar. Getraer announces that the District Commander has nominated them for the Sustained Superior Achievement Award, which only 3 CHP officers in the L.A. area have received in the last 7 years. Grossman announces that they want to throw a shin-dig for the guys if the Commissioner approves. Grossman describes it as "half party, half roast." Grossman interviews various CHP officers who recall their favorite Ponch and Jon story. At the conclusion of briefing, a number of officers surround Grossman; Baricza and Fritz offer ideas.
Recap#1: Rescuing the kids on a runaway school bus in Repo Man
Recap#2: Re-enacting Cahill's accident in MAIT Team
Recap#3: Leading a convoy of chlorine trucks and corralling a tiger inThe Volunteers
Recap#4: Catching cattle thieves in Rustling
Recap#5: Rescuing the girl trapped in an ambulance in Return of the Turks
Recap#6: Ponch is trapped in a car with a boa constrictor in Cry Wolf - this is removed from the testimonials because it is deemed inappropriate.
Recap#7: Chasing down the "phantom rider" in Supercycle
Recap#8: Rescuing the sky diver who lands on the freeway overpass in Vintage '54
Recap#9: Ponch's women from various episodes
Recap#10: Grossman chases female car thieves into the water in Down Time - criticized for having nothing to do with Ponch and Jon.
Recap#11: Stopping a runaway box truck with Baricza's cruiser in Hitch-Hiking Hitch.
Recap#12: Rescuing the girls who drive their car into a swimming pool in Flashback!
Recap#13: Catching car thieves from a helicopter in High Flyer
Recap#14: Ponch and Jon stop a van load of naked volleyball players in Crash Diet
Recap#15: Rescuing Chris Roberts from raging rapids in Disaster Squad
Recap#16: Saving Robbie Davis from a bomb in her truck in Bio-Rhythms
Baricza, Harlan, Fritz, and Getraer find Grossman contemplating "a finish" to the story.
Great Quote
"Now naturally, because of my literary sensitivity and my facile command of the English language, some of us felt I should assemble our recollections of some of their escapades."
--Grossman on why he was placed in charge of the recollections.
Also Starring
Crew
Fun Facts
This two-hour episode comprised primarily of highlights from the first two seasons.
Although Brianne Leary is listed in the credits, she only appears in a couple of the recaps.
Buy this episode