Tight Fit
Jump to navigation
Jump to search
Tight Fit
Episode #
602
Air Date
October 17, 1982
Briefing
Stolen diamonds/Pasadena Freeway/Ponch is allowed to be a model.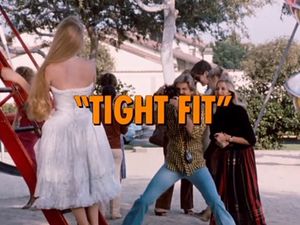 Brief Plot
Ponch takes a part-time job as a model for a jeans company, but he finds that he doesn't like being an instant celebrity. He discovers stardom takes him away from his real work, the rewarding job.
Plot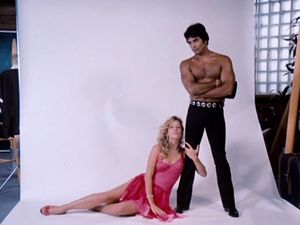 When two motorbikers steal a camera bag, Ponch and Bobby chase them and catch them cornered in a parking garage. When Ponch returns the bag, he is asked to be their "Barcelona Man".
When Ponch and Bobby pull over a car for an expired registration, it rolls over a cliff. They decide to forget about the ticket.
After the briefing, Ponch does some modeling. He learns that one model, Sheila, has a problem and wants to talk to her about it.
On patrol, Ponch and Bobby catch a suspected diamond thief. When Ponch and Bobby encounter slow traffic, they learn that the holdup is caused by a picture of Ponch as "The Barcelona Man" on a billboard. Ponch soon gets called downtown to stop a jumper - Sheila. Ponch talks her inside.
Back at Central, Bobby learns that the insurance company never heard from the guy whose car went off the cliff. When they go to investigate the accident, they find the wrecked car is gone. They figure out where the car went and find the thieves there.
Back on patrol, they stop a truck with a woman giving birth in the back. Ponch delivers the baby as Bobby watches. When the paramedics arrive, Ponch and Bobby ride off. They arrive at the photo studio and try to arrest the photographer for child pornography. He runs off and escapes in a van with Ponch's picture on the side. Ponch and Bobby chase after him and arrest him after he jumps and rolls his van.
Back at Ponch's apartment, everyone is watching Ponch's new TV commercial.
Guest Stars
Co-Starring
Crew
Fun Facts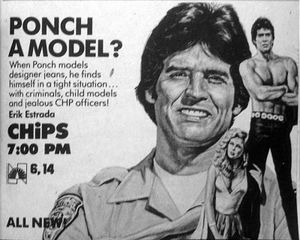 Mark Slade (O'Brien) previously appeared as Slim in High Octane.
Ponch returns the stolen photographic equipment to Geoffrey outside the Veterans Memorial Building in Culver City. The stainless steel artwork behind them ("Filmstrip USA" by Natalie Krol) was only dedicated a year before filming. View in Google Maps
The footage of O'Brien's car going over the cliff is recycled from Hot Wheels in season 3 (which explains why the crash site looks different when Ponch and Bobby go to investigate).
The car park where the diamond thief gets caught in a shopping cart is on Green Valley Circle, next to where the opening accident in Flare Up took place. View in Google Maps
Ponch's billboard was on West Sunset Boulevard, just in front of Chateau Marmont. View in Google Maps
Sheila threatens to jump from the old Lloyd's Bank building at 6th and Spring. Built in 1913, the 12-story building is now known as SB Lofts. View in Google Maps
Mistakes
When the guy watches his car go over the cliff, he appears to grab Ponch's gun.
When Sheila is on the ledge and Ponch goes out to rescue her, you can see a safety harness attached to him as she is about to fall.
The establishing shot for Sheila's jump scene shows Broadway outside the Garland Building. The jump scene was filmed a couple of blocks away at 6th and Spring.
The car at the salvage yard is not a Mercury Cougar.