The Spaceman Made Me Do It
Jump to navigation
Jump to search
The Spaceman Made Me Do It
Episode #
603
Air Date
October 24, 1982
Briefing
Unknown, but Grossie has good news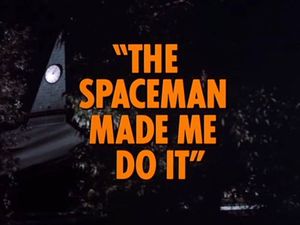 Brief Plot
While on night patrol, Ponch and Bobby respond to a jewelry store alarm. The culprit turns out to be a young girl who claims an alien made her do it.
Plot
Ponch and Bobby are stuck on night patrol when they respond to a jewelry store alarm. After the thief jumps her car through a truck, they arrest her. She turns out to be 11 or 12 years old. When Ponch questions her, she says an E.T. made her do it. After hearing the story, Jodi introduces herself to Ponch.
Later that day, Ponch and Bobby visit Jodi's mother to find out what's going on in the home. When Ponch and Bobby go to Jodi's court proceeding, her mother is missing. Ponch volunteers to look after her until Mrs. Hendricks is found.
That night, the alien (or a helicopter) visits Ponch's apartment and asks Jodi to go with them. When Ponch returns to Central with a broken headlight, he finds Jodi playing backgammon with Getraer. Getraer leads Ponch and Bobby into the other room to meet Dr. Joyce Brothers (who was apparently sitting all alone). After consulting her for two seconds, Ponch and Bobby go visit the alien landing site. Jodi speaks with the alien again and says that they're coming back to get her that night.
After the briefing, Grossie and Kathy meet Japanese sergeants who will pose as tourists to catch thieves who have been stealing the tourists' cash. When the thieves make their move, the CHP is ready. Grossie, Kathy, Getraer, Bobby, and Ponch all play a part. That night at Ponch's, Kathy finds Jodi missing. Ponch and Bobby find her at the landing site. They hold her down in gale force winds so the "aliens" can't take her. The winds die as fast as they came on and everything is alright. Bobby says, "It's a helicopter." Ponch tells him, "Bobby, it's whatever you want it to be."
At the end of the episode, we learn that the money Grossie got at the briefing was really for another Arthur Grossman and that the chain letters were never mailed.
Guest Stars
Co-Starring
Featuring
Crew
Fun Facts
Kyle Richards (Jodi) is the younger sister of Kim Richards who appeared as Sheila in the previous episode, Tight Fit.
The Japanese Village Plaza tower is still on East 1st Street, although now it's painted red. View in Google Maps
Helen Funai (Joy Fujino) received a credit for choreography in the previous episode, Tight Fit.
Mistakes
At the beginning of the episode, during Ponch and Bobby's close-ups, you can tell their motorcycles are on a trailer. You can even hear the trailer hit the bumps.
When Kathy and Grossie respond to the second tourist robbery at the Japanese Village (reported by the dispatcher as 3rd and Main), Grossie responds that they're "two away". They're actually over 10 miles away heading in the wrong direction past the MGM studios in Culver City.