Rock Devil Rock
Jump to navigation
Jump to search
Rock Devil Rock
Episode #
604
Air Date
October 31, 1982
Briefing
?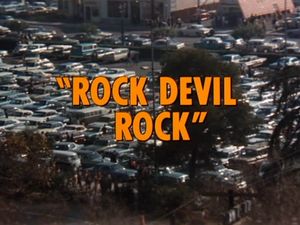 Brief Plot
Ponch and Bobby help a rock star who claims that attempts have been made on his life; Ponch performs a daring rescue; and the CHP officers throw a wild Halloween party.
Plot
Guest Stars
Special Guest Star
Co-Starring
Featuring
Crew
Fun Facts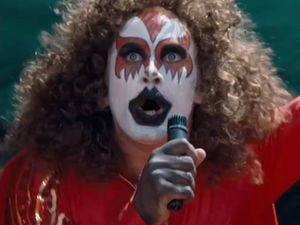 Donny Most (Moloch) is probably best known as Raplh Malph in Happy Days.
Ponch gets a new (1982) Firebird Trans Am for this season. It was briefly seen at the alleged alien landing site in The Spaceman Made Me Do It, but is shown more clearly here.
Bobby has an RV, just like Ponch did in season 1.
In 2003, Robert Trujillo (Flippy) became the permanent bassist with Metallica.
Mistakes
The gas tanker that Flippy crashes into leaks from the top, indicating it's full, but the explosion is tiny for that much gasoline. Also, what sort of gasoline company leaves a tanker full of gas in a deserted location?