Flare Up
Jump to navigation
Jump to search
Flare Up
Episode #
520
Air Date
March 7, 1982
Briefing
?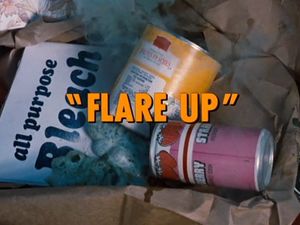 Brief Plot
Ponch gets accused of assault by a guy he pulls over for speeding, even though he didn't even write him a ticket. Jon has to go to hospital after breathing chlorine gas at an accident. Grossman organizes a demonstration about chemical fires, but only Harlan turns up.
Plot
Guest Stars
Co-Starring
Featuring
Crew
Fun Facts
Alan Stock (Eddie) previously appeared as Andy's son Chris in Sick Leave.
Eddie gets pulled over outside the triangular building on Green Valley Circle. The opening accident takes place at the intersection with Fox Hills Drive near Fox Hills Plaza (now Westfield Culver City). The square white building seen when Bonnie's cruiser approaches was demolished to 2008 to make way for an extension to the mall. View in Google Maps
The chemical spill scene was filmed on North Vermont Avenue. The truck crashes at the intersection with Cromwell Avenue, and Ponch is put into the ambulance at Gainsborough Avenue. Eddie and his grandfather lived at the house on the corner of Cromwell and Glendower. View in Google Maps
Mistakes
In liquid form, hydroacetic acid is actually a colorless organic acid that's commonly mixed with water and used as a cleaning agent.