Jon Baker
Jump to navigation
Jump to search
Jonathan A. Baker
Actor
Larry Wilcox
Appears in
Seasons 1 through 5 (1977 - 1982)
Call Numbers
6 Adam (1975)<ref name="Ep122">Episode 122: "Flashback!"</ref> / 7 Mary 3 (1977-1982) / 79 Charles (1999)<ref name="CHiPs99">Episode CHiPs '99: "CHiPs '99"</ref>
Badge Number
8712<ref name="Ep323">Episode 323: "Nightingale"</ref><ref name="Ep501">Episode 501: "Suicide Stunt"</ref>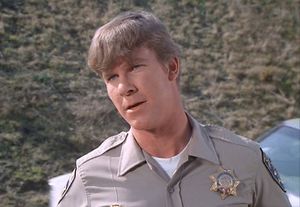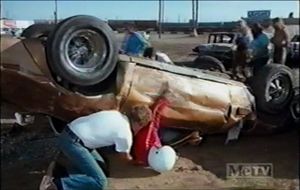 Jon Baker was born in Rawlins, Wyoming<ref name="Ep118">Episode 118: "Cry Wolf"</ref> and raised on a ranch. (Larry Wilcox was also raised on a ranch in Rawlins, Wyoming.) Jon referred to it as "a pretty big spread."
Jon is a leo<ref name="Ep118" />, which places his birthday between July 23rd and August 22nd.
As a kid, Jon raised parakeets.<ref name="Ep118" /> and had a horse named "Old Grey". It was in Wyoming that he joined the Boy Scouts.<ref name="Ep119">Episode 119: "Crash Diet"</ref> He has a brother<ref name="Ep101">Episode 101: "Pilot"</ref> and an older sister who was widowed. She was left alone with her son Wes Miller.<ref name="Ep203">Episode 203: "Family Crisis"</ref>
During high school (when his surname was JB<ref name="Ep110">Episode 110: "Highway Robbery"</ref>), Jon worked in a bowling alley as a bowling instructor. (He currently wears a 10D bowling shoe.)<ref name="Ep109">Episode 109: "Hustle"</ref> Jon was also on the high school football team. One of his teammates was Leo Norrison, who was a year ahead of him.<ref name="Ep110">Episode 110: "Highway Robbery"</ref>
Later, Jon served in Vietnam (probably USMC like Larry Wilcox).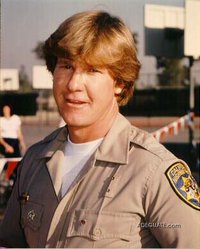 After joining the CHP, as any aspiring motor officer before being assigned to a motor squad, Jon was assigned to a patrol car. In 1975, he met Frank Poncherello and convinced him to become a CHP officer.<ref name="Ep122" />
In the mid-1970s, Jon was partnered with Gary Bertrom. He was 28 years old when he was killed while chasing a speeding car. Gary's brother, Pete, wanted to be a CHP but he is colorblind. Pete was later arrested for impersonating an officer.<ref name="Ep210">Episode 210: "Return of the Turks"</ref>
When Frank Poncherello was put on six month probation in early 1977, Getraer partnered him with Jon.<ref name="Ep101" /> They served as partners for five and a half years before Jon returned to Wyoming to help out on his father's farm in the middle of 1982. Bobby Nelson took his place at Central.<ref name="Ep601">Episode 601: "Meet the New Guy"</ref>
Jon lives in the Raintree Condominiums and Townhouses community where pets are not allowed.<ref name="Ep103">Episode 103: "Dog Gone"</ref> He doesn't have a TV<ref name="Ep108">Episode 108: "Green Thumb Burglar"</ref>, but somehow knows how to fix them.<ref name="Ep107">Episode 107: "Taking Its Toll"</ref> He used to drive an Austin Mini with vanity plates "J A B"<ref name="Ep102">Episode 102: "Undertow"</ref> or "JAB 5" <ref name="Ep103">Episode 103: "Dog Gone"</ref> but got his blue truck for the second season. (Although several blue trucks were used in the series, the most common was a 1978 GMC Sierra Grande with the license plate 1E49964.)
His accomplishments and talents include: being a bowling instructor<ref name="Ep109" />, an attempt writing a book<ref name="Ep107" />, jet-skier<ref name="Ep115">Episode 115: "Surf's Up"</ref>, volleyball player<ref name="Ep119" />, certified flight instructor, plays handball better than Ponch, horseback rider, calf roper, wind-surfer, hang-glider, sky-diver, and talented skate boarder. His favourite quote: "Take it easy ! Will you ?", you can hear him saying that in numerous episodes to many distressed drivers.
Jon speaks French in "The Sheik" but couldn't speak a word of it when he pulled over the three-wheeled car in "Hustle". He must have taken lessons.
Shortly after the sixth season, Jon returned from Wyoming and became Ponch's partner once again. A year and a half later, Ponch retired and moved to Marin County.
By 1999, Jon had been promoted to Captain and had married Officer Sandy Baker. He teamed up with Ponch after Ponch returned to the CHP.<ref name="CHiPs99" />
References
<references />