CHiPs Season Two Soundtrack
Jump to navigation
Jump to search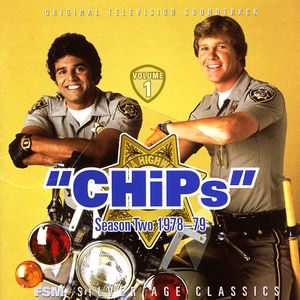 The CHiPs Season Two Soundtrack is a CD of music from the second season of "CHiPs". It was released in 2006 by Turner Classic Movies Music and distributed by Film Score Monthly under the Silver Age Classics label. The CD includes 20 tracks and detailed liner notes on Alan Silvestri's development of the music. The pressing was limited to 3,000 copies.
Track listing
Main Title (Parker, arr. Silvestri) - 1:18
Peaks and Valleys - 3:52
Family Crisis - 5:41
Disaster Squad - 6:19
Neighborhood Watch - 3:33
High Flyer - 6:15
Trick or Trick (Bruce Broughton) - 5:56
The Grudge - 5:12
The Sheik - 5:44
Return of the Turks - 5:37
Supercycle - 2:45
High Explosive - 4:46
Down Time - 2:48
Repo Man - 2:12
Mait Team - 4:03
Pressure Point - 2:43
Rally 'Round the Bank - 2:24
Matchmakers - 2:39
Ponch's Disco (from "Peaks and Valleys") - 3:59
End Credits (Parker, arr. Silvestri) - 0:26
Total Time: 79:16
Credits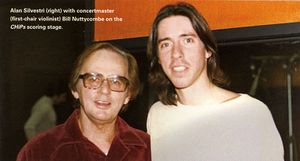 Album produced by Lukas Kendall
Production Executive for Turner Entertainment Co.: George Feltenstein
Album Sequenced by Jonathan Z. "Ponch" Kaplan
Music Score Remix by Michael McDonald, Private Island Trax, Hollywood, California
Digital Mastering by Doug Schwartz, Mulholland Music, North Hollywood, California
Music recorded at M-G-M Studios Scoring Stage, Culver City, California.
Orchestrations by Alan Silvestri.
Alan Silvestri compositions published by EMI April Music, Inc. (ASCAP).
John Parker compositions published by EMI Affiliated Catalog, Inc. (BMI).
CD Art Direction by Joe Sikoryak, designWELL, Berkeley, California.
Production Assistance Jeff Eldridge
Still photographs and poster images courtesy of Turner Entertainment Co., A Warner Bros. Entertainment Company.
Additional images courtesy Photofest.
Special Thanks: David Bifano, Cy Chermak, Keith Zajic, Mark Pinkus, Dave Kapp, Noni Ellison, Rebecca Bodmer, Nick Corsello, Richard Steele, Emile Brinkman, Craig Spaulding, Alexander Kaplan and Tim Curran.
Visit www.filmscoremonthly.com for our complete catalog.
Other seasons
Releases of other seasons have not been announced.
See also
External links