The Killer Indy
Jump to navigation
Jump to search
The Killer Indy
Episode #
504
Air Date
October 25, 1981
Briefing
?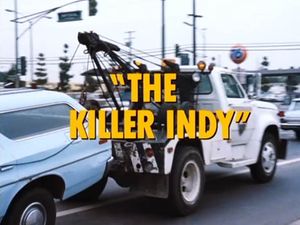 Brief Plot
An illegal motorcyle race leaves a string of accidents, and Getraer thinks that CHP officer Steve McLeish's brothers may know who's responsible. Grossman finds it hard to get volunteers to help him entertain his visiting nieces.
Plot
Jon meets Grossie at the Family Fun Park and is about to have lunch with Grossie when Steve McLeish goes by chasing motorcycle speeders. Jon follows after them. The speeders leave a trail of accidents behind just before the theme. As they take care of the fruit stand accident, Jon attempts to piece together what happened. Jon and Steve go and visit Steve's brother to try to find out more information.
Back at Central, Jon discusses the accident with Getraer. Before the briefing, Grossie tries to get Jon to go to the fun park with him and his nieces on Saturday. Later, Ponch and Steve go to talk to Toro and see the "Indy" bikers. Jon questions him about them and gets nowhere.
After the commercial, Steve manages to get some information out of Toro. Back at Central, Jon and Getraer discuss the Indy racing. Later, Jon and Steve stake out Toro's garage. When Toro goes riding in the flood control channels, Jon and Steve are secretly following him.
The next day, Jon, Steve, and Harlan go out to a motorcycle track so Steve can practice racing against Toro. Steve ditches so that Toro will win. After Steve finds out Steve's youngest brother, Ted, moved out of Toro's house, Jon goes to talk to Ted. When one of the Indy racers sees Jon, he speeds off and Jon chases him. When he catches him, Jon arrests him.
Later, Toro finds out that Ted's going to race. He and Steve head to the flood control channel and his wife calls Jon. Jon's on his way and calls for backup on his truck's CB. After the commercial, he arrives at the flood control channel. As he drives in, the racers drive out. Jon chases them and is joined by Steve and Toro on their motorcycles. Steve kills Ted's engine. After they all stop, the other racer speeds off.
Steve calls for Baricza on Jon's CB while Jon chases after the racer on Ted's motorcycle.
Meanwhile Baricza sets up a roadblock with Turner, Clark, and Getraer. When Jon and the racer arrive at the roadblock, Jon manages to squeeze between cruisers by doing a wheelie. The other racer hits a cruiser, flips over it, and gets knocked out. At the waterpark, Grossie finds the whole CHP there to help him (and two of his female neighbors) watch his two nieces.
Guest Stars
Special Guest Star
Co-Starring
Crew
Fun Facts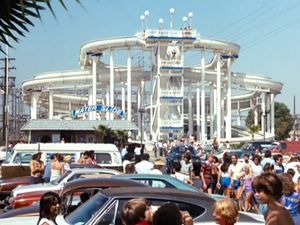 Antony Alda (Robby Burstad) was the son of actor Robert Alda, and the younger half-brother of Alan Alda.
The opening and closing scenes with Grossman were filmed at Golf N' Stuff Family Fun Center in Norwalk. The Water Slide seems to have been removed in the late '90s, but the other facilities are still there. The Water Slide and arcade can also be seen in The Karate Kid (1984). View in Google Maps
Although Steve says he'll race Toro in Pomona, they actually race at the Saugus Speedway, previously seen in Supercycle.
This is last time Randi Oakes is seen wearing Aviator Sunglasses.
Mistakes
Near the end, Jon pulls his pickup off of the riverbed to pursue the racing bikers across a bridge. In the next shot the bikers come from about 150 yards behind Jon and follow him over the bridge.
Before the final chase, Jon identifies himself as police and tells Burstad that he's wanted, but Burstad spends half the chase following Jon - not a great escape strategy!
After Burstad hits the patrol car, Getraer says "He hit his head, call an ambulance". His head didn't touch anything until he was almost stationary.
When Jon speaks to Steve on the phone, he gives his location as "Fairfax and Highland". These two streets run roughly parallel over a mile apart, and never intersect. The red Union Engine Rebuilders sign behind Jon shows that he's actually outside Toro's garage at Washington and Union.