Finders Keepers
Jump to navigation
Jump to search
Finders Keepers
Episode #
509
Air Date
November 29, 1981
Briefing
?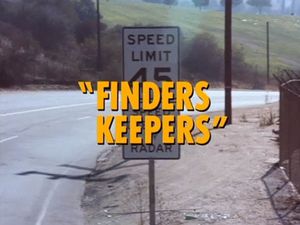 Brief Plot
A couple of kids steal a crook's car to get to work, and take an incriminating envelope when they abandon it. Steve finds the car and then finds himself under surveillance when the owner assumes that he has the envelope. Jon helps out a country singer, but keeps missing her act. A bondsman from Texas uses unorthodox methods to catch a man who he claims beats and robs older women.
Plot
Guest Stars
Special Guest Star
Co-Starring
Crew
Fun Facts
George's car is stolen on Ventura Boulevard. The Surprise Store seen in the background is now Skechers. View in Google Maps
Jon first meets Jewel on Forest Lawn Drive at almost the exact spot where the crash in Mait Team took place. Nearby roads including Zoo Drive, Griffith Park Drive and Mineral Wells Road, all in Griffith Park, as used throughout the episode.
Steve McLeish drives a dark green, possibly British Racing Green, Jaguar SS100 (or more likely a replica).
The Palomino Club was a music venue in North Hollywood that the Los Angeles Times once called "Country Music's most important West Coast club" because of the big name acts it used to attract. It appeared in several movies in the '70s and '80s including Hooper, Every Which Way But Loose and Any Which Way You Can. It closed in 1995, soon after the death of both original owners. View in Google Maps
Amy Madigan (Jewel Burnett) played Kevin Costner's wife, Annie, in Field of Dreams and John Candy's girlfriend, Chanice, in Uncle Buck. She is married to Ed Harris, whose successful acting career includes playing Lonny in Vagabonds earlier in season 5.
This is the first Steve McLeish episode to feature Ponch, although the two don't meet.
One of the young car thieves actually wears his seat belt. It seemed so usual as to be noteworthy!
Mistakes
After Steve checks out the abandoned blue car, he rides off leaving the window open, the doors unlocked and the keys in the ignition.