Vagabonds
Jump to navigation
Jump to search
Vagabonds
Episode #
502
Air Date
October 11, 1981
Briefing
Turn in form 184/Gang with insurance rip-off scheme.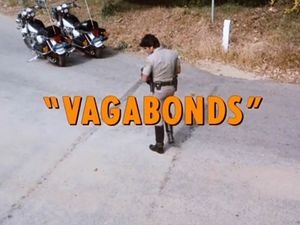 Brief Plot
The remnants of a family gang of insurance scammers/thieves come to town staging fake accidents. Jon is the CHP's entry in a "speed-mobile" race for recumbent bikes and trikes.
Plot
While Ponch, Jon, Grossie, and Harlan talk about the "speed-mobile" (aka high-speed bicycle) race, a family in a camper is creating an accident as an insurance rip-off.
After the briefing, the Wilson family steals luggage from a broken down sports car. Next, they hit an airport limo. Later, Jon is practicing for the speed-mobile race. When the Wilsons pull off another stunt, their son gets hurt and Jon tells Ponch to call for an ambulance. Ponch spots the father and uncle of the kid and chases after them. He has to stop when he falls off his motor and wrecks it. Later, Ponch and Jon split up to search for the kid's parents. Jon finds them and warns them. After he leaves, their son shows up. Later, the uncle kidnaps the kid so he can teach him how to be a man. The father, Ponch, and Jon all chase after them. In the chase, the camper goes off the road and rolls over.
Later, the speed-mobile race is on. Jon wins and Grossie's glad he upped his bets. The show ends with Jamie being offered a ride in the CHP speed-mobile.
Guest Stars
Co-Starring
Featuring
Crew
Fun Facts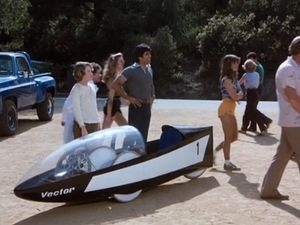 Mistakes