Counterfeit
Jump to navigation
Jump to search
Counterfeit
Episode #
306
Air Date
October 20, 1979
Briefing
People syphoning gas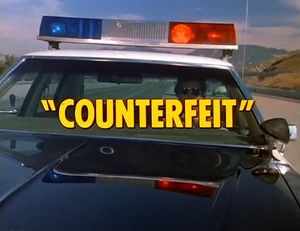 Brief Plot
A gang of counterfeiters moves to LA, and Ponch gets some of their phoney bills. Meanwhile, Ponch is worried that his blind date is too shallow.
Plot
Guest Stars
Co-starring
Featuring
Crew
Fun Facts
When Ponch and Jon arrive on scene after the roll over, check out the brush fire in the background!
Mistakes
When the counterfeiter flees from the gas station, he loses a hubcap, yet all the hubcaps are in place during the subsequent chase.