Return of the Supercycle
Jump to navigation
Jump to search
Return of the Supercycle
Episode #
307
Air Date
October 27, 1979
Briefing
?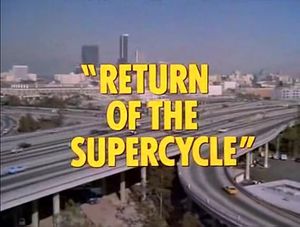 Brief Plot
Ponch ends up in hospital when he crashes while pursuing a jewelry thief on a motorbike. Jon and Ponch think it could be Roy Yarnell, who's back in town with his own stunt show. Meanwhile, a new female officer is interested in Jon, but his colleagues think she's there to spy on them.
Plot
A red motorcycle robs a jewelery store and is immediately chased by Ponch, Jon, and Baricza. Swerving to avoid a trailer, Ponch gets knocked unconsious and ends up in the hospital (again).
After watching a clip from last year's episode, Kathy Mulligan (a visiting CHP) hits on Jon...but his mind's on the supercycle. After the briefing, he heads out to see Roy Yarnell and uncovers nothing. The red bandit hits again after the commercial. Jon, Baricza, and Mulligan chase him. He escapes over a jump ramp. Since Jon's motor needs repairs, he wants to use the supercycle but Getraer refuses.
Back on the streets, Getraer and Jon chase the red bandit into the L.A. Colosseum. He drives up the steps to the top and escapes. Upset, Joe lets Jon use the supercycle. While Jon visits Roy, we learn that it's really the mechanic who's been pulling off the robberies. Bonnie realizes that they're really plotting to steal a diamond to frame Roy. The CHP arrives just in time to scare off the red bandit. Jon chases him down and catches him thanks to the supercycke, After Kathy says her goodbyes, Jon visits Ponch.
Ponch shows a film of Jon on a dirtbike with a hang-glider attached. Jon jumps a truck on it. Then Getraer pops out to take credit for filming it. It turns out that everyone's there laughing at Jon's stunt.
Guest Stars
Co-Starring
Special Motorcycle Stunts By
Crew
Fun Facts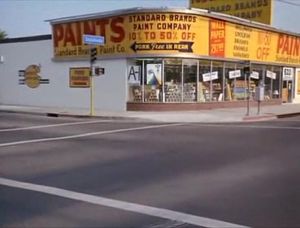 The red/yellow Standard Brands Paint Co. store seen a couple of times in this episode was on the corner of Sepulveda Boulevard and Erwin Street. It's now a CVS/pharmacy. View in Google Maps
The drive-in was the Sepulveda Drive-In Theatre, also on Erwin Street. It closed in 1989 and is now a car park. View in Google Maps
The bank where the diamond is on display is at the intersection of Van Nuys Blvd and Haynes Street. It's now Bank of America. View in Google Maps
Mistakes
When Jon gets to the bottom of the ramp at the drive-in theater, his right side pannier is loose and dragging on the ground. Moments later he drives up the ramp and the pannier is fixed. When he rolls back to Baricza and Kathy, it's loose again.