Tiger in the Streets
Jump to navigation
Jump to search
Tiger in the Streets
Episode #
514
Air Date
January 10, 1982
Briefing
?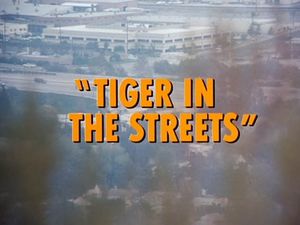 Brief Plot
Jon and Ponch try to catch some "bump and tag" drivers and an escaped tiger. Grossman tries his hand at stand-up comedy.
Plot
Ponch and Jon chase a "bump and tag" car but while Ponch assists at an accident, Jon follows a girl who tells him her friend fell into a hole. Ponch, Jon, and Baricza realize that it's a large animal trap.
The next day, Ponch and Jon show the pit to a woman from animal control.
That night, Ponch and Jon visit a custom car shop looking for the "bump and tag" driver.
They come back the next morning and talk to the kid they're looking for. Next, Ponch, Jon, and the woman from animal control investigate Kessler's Animal Park. As they're leaving, they get a call about a loose tiger.
They set up a trap for it. As they're about to catch the tiger, some "bump and tag" drivers scare it off. Soon, one of the cars rolls off a cliff and the driver is brought to the hospital. That night, Grossie practices his standup routine and tells some racist jokes. He almost gets beat up but Turner saves him. The next day, the tiger is in the streets and Ponch and Jon are there. Getraer soon shows up with a pair of kittens. The tiger runs to investigate and goes right in the cage. Ponch soon learns about a "chicken" race.
When Ponch discovers it's held in the flood control channel, he shows up with Jon just in time to stop it. That night, we learn that Harlan got Grossie's jokes from Slappy White. Slappy gets Grossie up on stage and he's not too bad.
Guest Stars
Co-Starring
Crew
Fun Facts
Mistakes