Something Special
Jump to navigation
Jump to search
Something Special
Episode #
606
Air Date
November 21, 1982
Briefing
?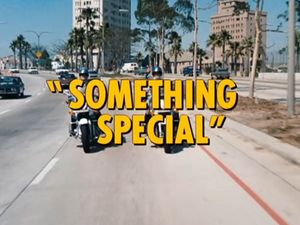 Brief Plot
A stunt-riding friend of Bobby is planning a spectacular jump. Ponch helps to coach a kid for the Special Olympics, despite his father's apparent lack of interest. A layed-off car worker starts a vendetta against small imported cars.
Plot
After an egg truck overturns, Grossie buys them for a penny each. Meanwhile, Ponch and Bobby discover one of Bobby's old friends, Shake, doing stunts in the road. Shortly, Ponch is at the track helping a kid train for the Special Olympics. Later, a laid off auto worker is out ramming small imported cars.
Meanwhile, back at Central, Grossie is serving egg created cream-puffs. That afternoon, Ponch is back helping kids train for the Special Olympics. Meanwhile, the Nelsons learn that Shake is planning to jump an airplane. The next day, Ponch and Bobby respond to a call about a guy destroying cars. He gets away but Bobby got the license number. Later, when a Special Olympian hears his dad talk about him, he runs away. At lunch, the CHP discusses how to do a perfect bike jump.
Out on the streets, Bobby spots the runaway Olympian in a "spillway". Nicky jumps in just before the water is released. Ponch jumps in, lifts him out, and gets lifted out by Bobby just in time. Later, Shake makes his airplane jump while the event is narrated by Stu Nahan. But wait! The show's not over yet! After the commercial, the laid off car wrecker is at it again. When he threatens to blow up the car parts warehouse, Officer Linahan saves the day.
Ponch (and some other CHP) are at the Special Olympics competition. Nicky doesn't come in first, but he's a champion and shares a tender moment with his dad. That night at Shake's celebration party, the hostess presents deviled eggs. Everyone is disgusted (except Grossie).
Guest Stars
Co-Starring
Featuring
Crew
Fun Facts
Mistakes