This Year's Riot
Jump to navigation
Jump to search
This Year's Riot
Episode #
607
Air Date
November 28, 1982
Briefing
?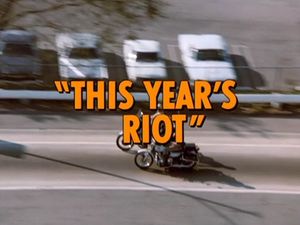 Brief Plot
Most of the team go on a weekend vacation to Ocean Island where Grossman's uncle has a house. Bobby and Ponch join them, but they're on duty. While there, they have to deal with a drug dealer, a guy who's angry about people using a private beach, and a nude model.
Plot
After a girl gives "Oliver" a kiss, he loses control of his car and crashes through a traffic barrier. Ponch and Bobby give him a ticket and return to Central. Everyone's planning on taking the day off to go to the beach...but Getraer makes Ponch and Bobby stay on duty. Luckily, Getraer gave them beach duty. The next day, Ponch and Bobby take Ponch's motor home (which he sold in the second season!) to Ocean Island. Ponch is enjoying the ferry ride and Bobby wants to arrest everyone. Ponch takes the covers off their motors and it quiets down a bit. At Grossie's uncle's place, "Oliver" (aka Russell) turns out to be Grossie's cousin!
Ponch and Bobby have to cancel a swim to answer a disturbance call. While clearing the disturbance, charcoal spills on a car and it catches fire. The girls in it drive it into the water. Ponch tells Bobby to take his boots off before going in to save them. When a resident complains about nude people on his private beach, Bobby arrests two people from the beach...Grossie and Harlan...who (thankfully) weren't nude. After a musical interlude and some sailing, Russell's friends bury him as Grossie watches. A guy feels sorry for Russell and gives him a "new drug". The person who first tested the drug roller skates through a window. Luckily Ponch was there to stop the bleeding. Meanwhile, Russell knocks over the outdoor shower with some girls in it. They run away and leave Russell crying. Back at Central, Getraer has Bruce doing "dull, dreary, and boring" things.
On patrol, Bobby spots the drug dealer. They chase him after he steals an ATC. Soon he abandons the ATC and jumps on a ferry. Ponch jumps his motor onto the ferry to arrest him. Meanwhile, Russell is still sitting in the sand by the broken shower and he takes the drug. Then he takes out his Hobie Cat with a girl. Down the beach, the complaining resident refuses to let people leave the beach. Ponch gets him to drop his rifle and let people off the beach. On the Hobie Cat, Russell gets dizzy and can't control the Hobie Cat. Ponch and Bobby visit a model's house and arrest her for organizing the nude beach. Ponch robes her and tells everyone to put their clothes on or be arrested. Back on the Hobie, they capsize and fall off. Our heroes jump on some jet-skiis and save Russell and the girl before they hit the rocks. That night, Grossie tells everyone that he's "cosmically grown" this weekend. They all toast to Ponch and Bobby...who have follen asleep with women in their laps.
Guest Stars
Special Guest Appearance By
Co-Starring
Featuring
Crew
Fun Facts
Ocean Island is a fictional location. The establishing shot is Laguna Beach.
Grossie's uncle's house is in Malibu. View in Google Maps
This is Robbie Rist's fourth and final appearance in CHiPs.
Somehow the ATC chase goes from sand dunes to the docks at San Pedro. The United Distributing building was at 1400 South Harbor Boulevard.
The nude model's house is about a quarter of a mile west of Grossie's uncle's house. It last changed hands in 1999 when it sold for just over $3,000,000; the 2013 estimated value is nearly $9,000,000. View in Google Maps
Mistakes
When the girls drive their smoking car into the river, it stops with only the front wheels in the water. In the next shot it's out in the channel and almost fully submerged.