Dynamite Alley
Jump to navigation
Jump to search
Dynamite Alley
Episode #
324
Air Date
March 30, 1980
Briefing
?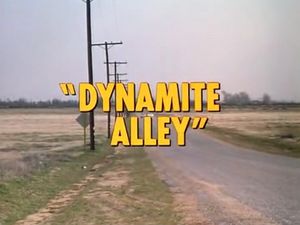 Brief Plot
Bonnie flips her cruiser on the way back from Bakersfield, and the only witness is a boy she talks to on the CB. Grossman is writing an article for Highway Patrol magazine about hallucinations experienced while driving.
Plot
Bonnie is on patrol on Route 21...the middle of nowhere. After talking on the CB radio to wake her up, she goes off the road. Her CB friend calls the police and Ponch and Jon respond to the 11-83.
Back at Central, Grossie is writing another article for the Highway Patrol magazine. From there, Ponch and Getraer go and visit Bonnie at the hospital.
The next day, Ponch and Jon respond to a call about an Army tank in the street. It's on the way to a funny car show. Back at Central, Jon has Grossie thinking there was an imaginary tank...until he shows Grossie the picture Ponch took of him standing on the turret. Later, Ponch and Jon go to visit Bonnie's CB friend, "Blabbermouth". Meanwhile, Baricza spots an accident on the highway and Turner shows up to chase the car which caused the accident. A few miles down the road, he finds a car going backwards down the freeway. Upon closer inspection, he realizes that it has two front ends.
The next day, Turner and the other officers agree to help Grossie with his article. Then Jon goes looking for clues at the trucking company Bonnie named as running her off the road. Later, Ponch and Baricza head out to a report of a downed airplane...but learn that it's a funny car.
Meanwhile, Jon learns that none of the truck trailers have logos on the back of them. Back at Central, Grossie plays a shrink and questions Bonnie. In the hallway, Ponch and Jon talk to "Blabbermouth". He joins Bonnie and reveals that there really wasn't a truck in her way. As Grossie leaves, Getraer gives him some ideas for the rest of his article. Out in the garage, Harlan shows off his HPMT (Highway Patrol Motorcycle Trainer) which won him $200 in the funny car show.
Guest Stars
Co-starring
Featuring
Crew
Fun Facts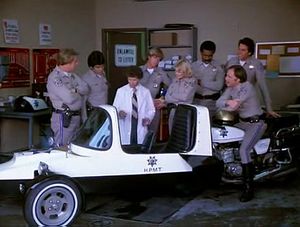 The Harlan Primary Motorcycle Trainer (H.P.M.T.) can do 110 mph and 80 miles to the gallon.
The DC-3 bus was originally created in the late '70s by H.L. "Smokey" Roland. It has now been painted to look like a Space Shuttle, and has recently had a $100,000 investment to turn it into a cafe.
Mistakes
At the hospital, Ponch tells the Marshalls that Bonnie's seat belt being fastened saved her life, but when she's talking to Blabbermouth, her seat belt is clearly hanging loose by the door.