CHP BMX
Jump to navigation
Jump to search
CHP BMX
Episode #
221
Air Date
March 3, 1979
Briefing
?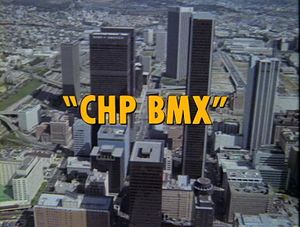 Brief Plot
Getraer releases a dangerous narcotics suspect.
Plot
Great Quote
Guest Stars
Also Starring
Co-Starring
Featuring
Crew
Fun Facts
Gwynne Gilford who plays Betty Getraer is the real-life wife of actor Robert Pine.
The muddy lot where Dutch is caught in the blue car was on West Washington Blvd, near the intersection with Oak Street. The large building currently on the site was built within a year of filming. Taking Dutch back to Central shouldn't have been a problem for Getraer - it's only about a quarter of a mile away. View in Google Maps
Mistakes
After the pursuit in the mud, they just leave the bad guy's car stuck on the pole. No tow truck or impound?
The hood bird and chin spoiler on Ponch's car are missing and the hood is misaligned.
Buy this Episode