Return to Death's Door
Jump to navigation
Jump to search
Return to Death's Door
Episode #
609
Air Date
December 12, 1982
Briefing
Keep an eye out for the honeymooners.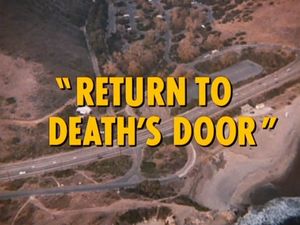 Brief Plot
A guy arrested for hill racing holds a grudge against Ponch because his brother, Ponch's friend, died while racing him. Bruce helps to catch a dog on the freeway and Harlan is persuaded to look after it. A pair of honeymooners steal a car.
Plot
Guest Stars
Co-Starring
Featuring
Crew
Fun Facts
"Death's Door" in the title refers to a deadly curve on a road popular with racers.
Gina Gallego (Elena) previously appeared in Valley Go Home! in season 3.
In previous episodes the Thalberg Building in Culver City played a hospital. Here it's the Los Angeles Police Department.
Getraer tells Ponch and Bobby that the honeymooners have been spotted at the City Center Motel at Sunset and Hill. The actual motel is the City Center Motel at 255 Atlantic Avenue in Long Beach. It still looks virtually the same today. View in Google Maps
Mistakes
Just after Bruce catches the dog, Ponch and Bobby get a call about cars racing on Mulholland north of Coldwater. They are clearly in the docks/Long Beach area when they get the call, which is roughly 40 miles away. Surely there are units closer to the action.
In Ponch's flashback, his car loses one of its rear hubcaps at the start of the race. The hubcap is missing throughout the race, but reappears when Ponch exits the car to see the crash. The same hubcap also disappears in some shots of the present day race.