Journey to a Spacecraft
Jump to navigation
Jump to search
Journey to a Spacecraft
Episode #
615
Air Date
February 6, 1983
Briefing
?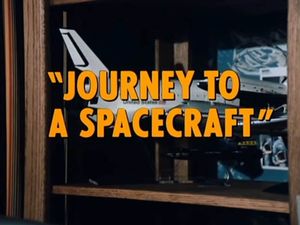 Brief Plot
Plot
As we join the show, everyone's watching the space shuttle Columbia launch. Meanwhile, someone on a motorcycle is kidnapping Mrs. Howell's dog. Ponch and Bobby hear the screams for help and chase the motorcycle rider. He jumps a fence and escapes.
At Central, Ponch and Bobby are assigned to the dognapping. Bruce is assigned to help out. Ponch and Bobby stop by a sick kid's house who says he heard people planning to steal a dog. The kid needs a liver transplant and has less than a month to live.
After leaving his house, Ponch and Bobby meet Bruce at an old motel. They find their motorcycle rider and chase after him. Ponch and Bruce manage to get him to stop by forcing him to crash into a pond.
Later, Ponch goes with the kid to the observatory while Bruce entertains Mrs. Howell at Central. While Kathy is dog hunting, the sick kid is running away from home. After getting a ride with a trucker friend, he tries to get another ride from another trucker friend but can't contact him. When he moves on, he leaves his medicine behind.
While Ponch, Bobby, and Bruce go looking for the kid, Kathy, Webster, Grossie, and the dog's owner bust the dognappers.
Meanwhile, the kid and his CB friend head south on a motorcycle. When the "chopper" gets a flat, he contacts another CB friend. At the kid's house, Ponch, Bobby, and Bruce figure out where he's headed...the shuttle landing. As they head out, they find out that someone died and a donor liver is available. They have to get him to the hospital in just a few hours.
At the shuttle landing, Ponch, Bobby, and Bruce are looking for the kid with the help of the NASA security chief.
Later, Ponch asks for the help of Col. Gordon Cooper and has him ask the kid to come meet him at the press building. After he meets Col. Cooper, Ponch carries him off to a helicopter so he can go to the hospital for his transplant.
After the operation, everything's fine and he's getting better.
Great Quote
"You think they'll ever need CHP's in space, Ponch?" -Bobby (watching the shuttle launch)
Guest Stars
Special Appearance By
Co-Starring
Crew
Fun Facts
At the beginning of the episode, everyone is watching Columbia launch. The episode aired February 6, 1983. Columbia was launched on STS-4 (June 27 through July 4, 1982) and STS-5 (November 11 through November 16, 1982). Columbia was not launched again until November 28, 1983 (STS-9). Obviously, they couldn't have watched a launch that hadn't happened for nearly 10 months after the episode aired, so they were likely watching the STS-5 launch. Although tape from an earlier launch may have been used, it's safe to assume that this episode is intended to take place starting on November 11, 1982 if attempting to fit it into reality. STS-1 through STS-5 (except STS-3) all landed at Edwards Air Force Base in Rosamond, California.
Enid Kent (Mrs. Cody) appeared as Nurse Bigelow in 14 episodes of M*A*S*H, including the finale.
Mistakes
After Ponch and Bobby leave the sick kid's house, they're riding down a road. If you have a TV which lets you see the very edges of the picture (or a video-in card on your computer) you can see part of the shadow of the camera truck at the bottom of the screen.
At one point, the trucker asks Kevin, "How'd you ever pick Space Rider for your handle?" Is he a moron? The kid's wearing a NASA hat. He obviously likes space stuff.