Fox Trap
Jump to navigation
Jump to search
Fox Trap
Episode #
616
Air Date
February 20, 1983
Briefing
?
Brief Plot
Ponch and Bobby try to prevent three female rock musicians from being victimized by an unscrupulous concert promoter. A pair of jewel thieves are planning a robbery using pocket bikes. Grossman is getting everyone to test his trivia knowledge for The Million Dollar Question TV show.
Plot
Guest Stars
Co-Stars
Crew
Fun Facts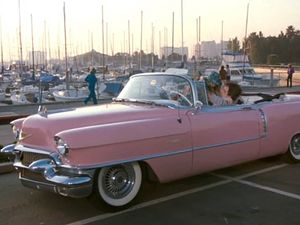 The Cadillac Foxes drive a pink 1956 Cadillac Eldorado Biarritz.
Laura Branigan's first acting role.
The Cadillac Foxes stay at a house just off of Dell Avenue near Venice Beach. View in Google Maps
First episode where Bruce Penhall gets his credit moved to the opening titles, just after Robert Pine. It remains there for the rest of the season.
The hotel where the Moonstone Emerald robbery takes place is the Holiday Inn in Burbank. It can also be seen in the background of the scene where the van is stolen near the beginning of the episode. Although the hotel and parking lot are still standing, many of the other buildings in the area have been replaced by new apartments, notably Avalon Burbank. View in Google Maps
Mistakes
During the short pursuit of Luther 'Sweets' Collier, sometimes Bobby's headlight is off and sometimes Kathy's is off.
The pocket bikes appear to overtake the same car twice before they leave the parking garage. After they leave the garage, they are then seen going past it again.