Brat Patrol
Jump to navigation
Jump to search
Brat Patrol
Episode #
617
Air Date
February 27, 1983
Briefing
?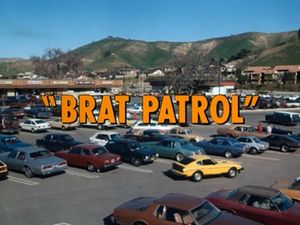 Brief Plot
Ponch injures his arm and gets assigned to looking after the teenage CHP Explorers aka. the Brat Patrol. Bruce and Kathy try to catch a drug dealer who's lacing cannabis cigarettes with PCP.
Plot
Ponch and Bobby chase after car radio thieves and Ponch takes a big spill over a car and into a van. At the hospital, Bobby is pretty worried about Ponch but he comes out with just a broken left arm. Two weeks later, he's begging Getraer to let him work again. Getraer gives him light duty with the CHP Explorers (aka Brat Patrol). On patrol, Bruce witnesses a drug deal and chases after the dealer. He catches the dealer after he gets flat tires.
Back at Central, Getraer chews out Bruce for doing it solo and arresting without evidence. He assigns Bruce to assist Kathy in the follow up. Meanwhile, Ponch meets the rag-tag group of kids known as the Brat Patrol. After sending them home to get in uniform, they meet the LAPD Explorers and challenge them to a race. They lose. After they finish washing all the LAPD and CHP cars, Kathy and Bruce are out looking for the drug dealer. Later on, the Brat Patrol spots guys breaking into cars. Ponch and Bobby make the bust. Back at Central, the Brat Patrol wants more and listens to the LAPD on a scanner. They're spotted by the police and returned to Ponch.
Meanwhile, Bruce and Kathy bust the drug dealer. While the Brat Patrol is practicing, Ponch talks to C.T.'s mother to convince her to let C.T. stay an Explorer. When they meet the LAPD Explorers in a rematch of the relay race, Artie finishes just barely in front of the LAPD racer.
Guest Stars
Co-Starring
Featuring
Crew
Fun Facts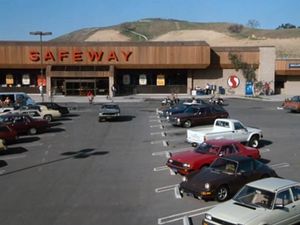 The opening scene where the thieves are stealing from parked cars was filmed at the Twin Oaks Shopping Center in Agoura Hills. The Safeway store is now Ralphs. View in Google Maps
The parking lot where Bruce catches the drug dealer is now the location of the Sony Pictures Plaza. The other side of the parking lot was used by the bad guys to spy on the Freeway Angels in Day of the Robot. As Bruce pulls in, the post office across Culver Boulevard can be seen in the background. View in Google Maps
Kathy Shower (Cindy) was Playboy Playmate of the Year 1986.
Tammy Lauren (Becky Lou) appeared as Det. Maggie Sullivan in over 100 episodes of The Young and the Restless.
Mistakes
Considering the problems it caused in the first race, Ponch still failed to teach the correct baton changing technique for relays.