The Grudge
Jump to navigation
Jump to search
The Grudge
Episode #
208
Air Date
November 11, 1978
Briefing
Assignments for the CHP open house / Commendations for the open house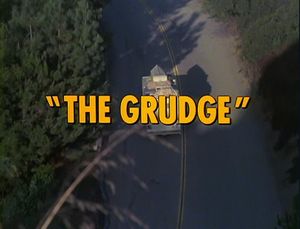 Brief Plot
Five fraternity brothers seeking revenge for a drug arrest harass Jon and Ponch; CHP headquarters prepares for its annual open house.
Plot
Driving home, some Alpha Alpha Omega fraternity brothers are headed towards a tunnel in their motor home. [Jon]] notices they're over the height limit and our heroes chase after them. The motor home scrapes some scaffolding and stops just at the entrance to the tunnel. Somehow, the motor home catches on fire. Jon saves a trapped frat brother while Ponch puts out the fire and finds quite a bit of pot.
After the frat brothers' trial, Ponch and Jon return to Central for the briefing. Meanwhile, the frat brothers scheme revenge on the CHP.
Later, Ponch and Jon run across an abandoned VW Beetle in the middle of the road with a letter addressed to Ponch in it.
Later, Ponch gets more letters based on nursery rhymes. Everyone's confused by them.
On patrol, the frat brothers pass Ponch and Jon. When our favorite officers chase them, the frat brothers start dumping play money on the freeway. It causes an accident and everyone jumps out to grab some cash.
After stopping by Central, Ponch and Jon return to the streets and find the convertible that dumped the cash. They chase it to Travel Town where the two frat brothers try to hide in trains. Ponch and Jon find them and go visit them and their other frat brothers when off duty.
While the CHP sets up for the open house, the frat brothers have girls from Gamma Delta Phi making brownies. Back at the open house, everything is going fine and the CHP motorcycle drill team performs. During the performance, Jon somehow figures out the riddle and tells Ponch. They catch the frat brothers and destroy a few open house booths in the process.
The next morning, Getraer reads a commendation for Baker but gives a damage bill to Ponch.
Great Quote
Guest Stars
Also Starring
Co-Starring
Crew
Fun Fact
During the briefing, the blackboard behind Getraer says "CHP-7 FBI-4". Are they keeping score?
The Frat house is located on West Adams Boulevard, it has had quite a history being used as a party venue and gang house, looks a bit run down now View In Google Maps
The tunnel where the motor home crashes is on Mount Hollywood Drive in Griffith Park. It was previously seen in the chase near the end of Hustle in season 1. It also appeared in "Back to the Future II" and "Who Framed Roger Rabbit", amongst others. View in Google Maps
Mistakes
Buy this episode