The Great 5K Star Race and Boulder Wrap Party
Jump to navigation
Jump to search
The Great 5K Star Race and Boulder Wrap Party
Episode #
405
Air Date
December 7, 1980
Briefing
This year's charity fund raiser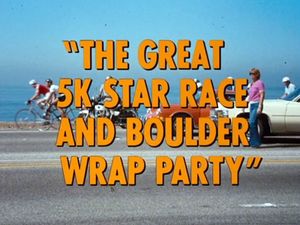 Plot
Ponch and Jon are on patrol near the beach on the Pacific Coast Highway when Ponch spots Burt Reynolds riding by in a limo. Meanwhile, a kid sneaks into a bike race. He quickly loses control of his bike and swerves into traffic, but Jon saves him from being crushed by a truck.
After the theme, the kid pulls his bike wreckage out from under the truck. When Bonnie comes to give him a ride home, he asks for a "regular cop" and she snaps at him.
At the briefing, Ponch comes up with the fund-raising idea of a bicycle relay with celebrities...even after Jon's reminders about last year's fund raising.
Out on the highway, two guys who invented a movable motorcycle sidecar rob a fur coat truck. When a woman spots a fur coat on the highway, she hits the brakes and causes a major accident involving an explosives truck (of course). After taking care of the accident, Jon visits the kid who was on the bike. He wants Jon as a "big brother" in the Big Brother/Big Sister program.
Later that afternoon, Ponch and Jon respond to a complaint from Milton Berle about rocks that are falling near his home. Ponch asks him to participate in the fund-raiser and he agrees. After investigating the rocks, Ponch and Jon chase the two thieves in the prototype motorcycle and sidecar. They lose the thieves just before a rock avalanche begins and causes a large accident. Ponch and Jon call it in and pull people out of their cars. After watching the avalanche, the thieves break into a producer's home and discover that he's in Europe. They decide to stay there for a while until it's safe to get away.
When Milton Berle comes out of his house in a panic, Ponch and Jon go to calm him down. Getraer assigns Ponch and Jon to crowd control and light duty near the boulder. A reporter interviews Milton Berle and he says he's not evacuating.
As Ponch calls celebrities, Jon calls his "little brother" and tells him about the boulder. Scenes from the next part are shown as we're told it's "To Be Continued"
Great Quote
"You Milton Berle?"
"If I'm not, I'm having a lot of fun with his wife."
-Ponch recognizes the man who reported falling rocks
Special Guest Star
Guest Stars
Featuring
Kimberly Alexander as Wendy
Robin Evans as Roberta
Jerome Guardino as Vendor
Cindy Harrell as Chris
Kevin King as Racer
Michael O'Leary as Bernie
Heidi Bohay as Corky
Paddy Edwards as Fur Lady
Dana Halsted as Carole
Cathy Cook as Hot Tub Girl
Kim North as Hot Tub Girl
Celebrity Doubles Provided by: Ron Smith Celebrity Look-alikes
Randi Oakes as Bonnie Clark
Crew
Fun Facts
Mistakes
After the motorcycle and sidecar duo steal the gold chains, their escape takes them past the same market twice. The second time, Jon and Ponch are ticketing a red car there.