Drive, Lady, Drive
Jump to navigation
Jump to search
Drive, Lady, Drive
Episode #
309
Air Date
November 10, 1979
Briefing
?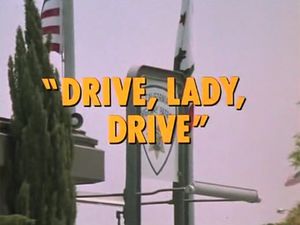 Brief Plot
Ponch, Jon, Bear, and Lenny go to Palma Vista to cover for the striking Palma Vista Police Department. While there, they help an orphaned 10 year old girl find a new home, arrest a councilman's two sons and city manager's daughter on some serious traffic charges, and break up a hijacking ring. Ponch falls for a lady race car driver, but loses out in the end.
Plot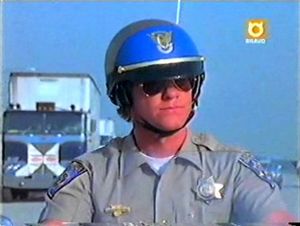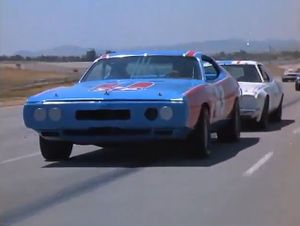 A man steals a truck and is pulled over by Ponch and Jon while his partner speeds by and wrecks cars. When Ponch and Jon chase him, Jon flips and crashes. Back at Central, Getraer assigns Ponch, Jon, Baricza, and Powell to assist other officers in Palma Vista. Meanwhile, a racer named Candi wins at the Phoenix Raceway and heads toward Riverside. They find a house on fire and stop to assist.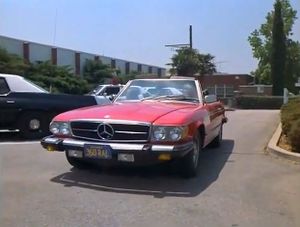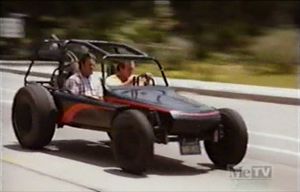 Meanwhile, Ponch, Jon, Baricza, and Powell arrive in Palma Vista to replace some striking police officers. Baker heads the "A Watch" from 6:30am to 2pm. When Candi arrives in Palma Vista, she brings a girl to the police station where Ponch and Jon try to help. When Ponch and Jon say they can't watch after the girl and she'd be left in the police station, Candi takes her to the race track. Later, Candi's parents are in town to watch after the girl.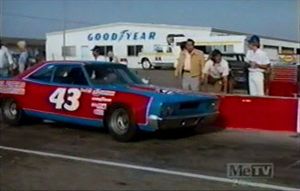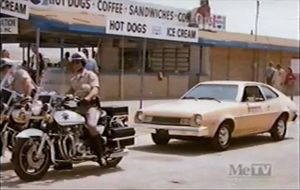 The next day, some guys in a dune buggy speed by the police station. Ponch and Jon chase them but can't find them when they hide under a loading dock. They didn't lose out though...Jon spotted the truck that they pulled over at the beginning of the show parked on the side of the road. Later, Candi's practicing racing as the girl watches. Ponch and Jon arrive with a woman who may know who the girl is and where she belongs. When the girl spots the woman, she runs onto the track. Candi swerves to avoid hitting her. Then...just at the last second, we see "To Be Continued"!
Guest Stars
Also Starring
Co-Starring
Featuring
Crew
Fun Facts
The racetrack featured in the second half of this episode and throughout part II was the Riverside International Raceway. It was torn up in the late '80s and is now the Moreno Valley Mall and some housing.
Candi stays at the Mission Hills Inn on Sepulveda Boulevard. It's now called the Valley Inn & Conference Center. View in Google Maps
Randi Oakes, Michael Dorn, Lou Wagner don't appear in this episode.
A few years after this episode, Tracey Gold (Donna) landed a starring role as Carol Seaver in Growing Pains.
Mistakes
The same two trucks (Blue Peterbilt 352 and White GMC Astro) that are at the truckstop in the opening magically appear together behind ponch and Jon after the cut scene.
While in the reports room, Ponch is explaining to Lenny why Jon has had a bad day, including letting a stolen truck get away. Getraer then walks in and informs them that the truck was stolen.
The Palma Vista cops went on strike because of a stock car race?
The cars used in the races do not match those used in the stock footage. Even the stock footage cars don't match very well.
Candi's car changes from a Plymouth Road Runner to a Dodge Charger and back in the filmed scenes.
When Ponch and Jon are pursuing the dune buggy, their red emergency lights flash alternately. One should be on steady burn per California law. This might be explained by the PVPD cops messing with the bikes.
During the dune buggy chase, the bike mounted shots are from the older KZ900 bikes.