Gene Fritz
Jump to navigation
Jump to search
Gene Fritz
Actor
Lew Saunders
Appears in
Seasons 1 and 2 (1977 - 1979)
Call Numbers
5 David 5
Badge Number
unknown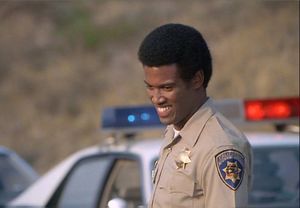 Gene Fritz is a patrol officer with the California Highway Patrol's Central area (southern division).
Gene is married to a woman named Wendy<ref name="Ep203">Episode 203: "Family Crisis"</ref>. She was four months pregnant at the beginning of 1978.<ref name="Ep113">Episode 113: "One Two Many"</ref> She was seen at Jon's "birthday" party shortly after he talked about her pregnancy and was not showing any signs of being pregnant.<ref name="Ep114">Episode 114: "Rustling"</ref>
Gene won the 1976 CHP bowling tournament with Baricza.<ref name="Ep109">Episode 109: "Hustle"</ref> In his free time, he enjoys playing racquetball with Ponch, Jon, and Getraer.<ref name="Ep101">Episode 101: "Pilot Episode"</ref> He is also on the CHP basketball team.<ref name="Ep102">Episode 102: "Undertow"</ref>
His current whereabouts are unknown.
References
<references />