Chuck
Jump to navigation
Jump to search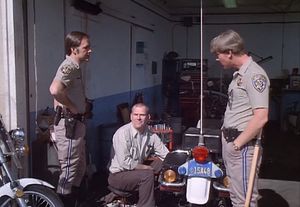 Chuck was a mechanic for the California Highway Patrol assigned to the Central Los Angeles Area Office.
When Ponch's motor fell in glue, Getraer asked Chuck if there were any replacement motors available.[1]
Chuck is never seen after the pilot episode. We never see another CHP mechanic until Harlan Arliss appears in Season 2's "Peaks and Valleys".
References