Brodie Greer
Jump to navigation
Jump to search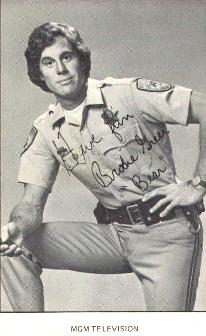 Brodie Greer (Officer Barry Baricza) was born on October 26, 1949 at St. Vincent's Hospital in Santa Monica, CA to Bill and Dayl Greer. He has brothers Bill Junior, Patrick, and Greg and a sister Treacy.
He was a member of Theta Chi Fraternity (Gamma Xi Chapter, San Jose State University).
He has appeared in several small roles since leaving "CHiPs" at the end of the fifth season. He is currently a real estate agent in California.
Starring Roles
L.A. Heat - "Legacy of a Buffalo Soldier" (TV-1999) as Dick Wessel
"CHiPs" '99 (TV-1998) as Barry Baricza
True Blood (1989) as Det. Tony Williams
Death Flash (1988)
Terror Squad (1987) as Capt. Steiner
The Love Boat - "The Last Heist/Starting Over/Watching the Master" (TV-1984)
The Love Boat - "Bricker's Boy/Lotions of Love/The Hustlers" (TV-1983)
The Love Boat - "I Like to Be in America/He Ain't Heavy/Abbey's Maiden Voyage" (TV-1983)
Just Our Luck - "Ballad of Dead Eye Dick" (TV-1983)
Fantasy Island - "Nurses Night Out" (TV-1982)
Circus of the Stars #7 (TV-1982) as himself
Circus of the Stars #6 (TV-1981) as himself
"CHiPs" (TV-1977-82) as Barry Baricza
External Links