Jim Bakus
Jump to navigation
Jump to search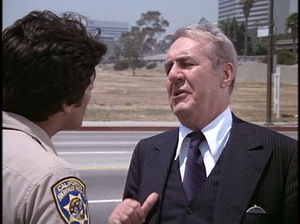 Jim Backus, born February 13, 1913, was one of the few actors to do it all: radio, Broadway, movies, television and cartoons. After attending prep school in his native Cleveland, Backus enrolled at the American Academy of Dramatic Art, to ply his trade. While waiting for parts, he did radio and became friends with such future notables as Garson Kanin and Keenan Wynn. On January 14, 1943, he married Henny Backus.
Backus soon was doing motion pictures in addition to radio. He was typecast in roles as "rich types" but broke the mold when he portrayed James Dean's father in the classic Rebel Without a Cause.
He reached the US Top 40 Pop charts for a couple of weeks in 1958 with his novelty recording, "Delicious!" on Jubilee Records featuring instrumental backing from Appleknocker And His Group. The female part was comedienne Phyllis Diller. It was basically the two of them taking a drink of champagne and exclaiming "delicious!" As the record progresses they get drunker and giddier, slurring the word and laughing hysterically.
With his career in full swing, Backus also tackled two roles that he would be best known for, Mr. Magoo in cartoons and Thurston Howell III, in Gilligan's Island. After the show's run ended, he continued doing guest spots on television and movies. He made a guest appearance on "CHiPs" in "Undertow" as Weitzman. He passed away on July 3, 1989.
External links