Wheels of Justice
Jump to navigation
Jump to search
Wheels of Justice
Episode #
408
Air Date
December 21, 1980
Briefing
The Getraer Method for soothing babies.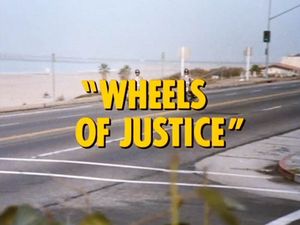 Brief Plot
A drunk driver causes an accident, but swaps places with his wife to avoid losing his license. Another dangerous driver looks like he'll slip through the net until several CHP officers compare stories and realize he's been using aliases to avoid prosecution.
Plot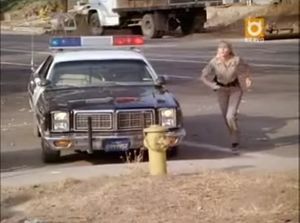 A repeat drunk driver causes an accident and switches places with his wife so he won't lose his license. After talking to the drunk's lawyer at Central, Ponch and Jon go on their beat again. They pull over cheerleaders who were hanging out of their cars.
The next day, Ponch and Jon are in court for the "Stan West" case and find out it was given a continuance. Next, Ponch and Jon stop by the hospital to verify injuries for Jon's reports. Later they check in the the new Deputy DA about the drunk driver.
When a gas main breaks at the hospital, the babies in the maternity ward have to be transported to another hospital. When a crazy driver (Stan West) tries to knock a car off the road, the baby transporting ambulance gets run off. Nobody's hurt, but Grossie ends up holding babies until the CHP arrives to take the babies to Central.
Ponch questions Stan West when his car is identified at the accident. Later at the drunk guy's trial, he is found guilty of public intoxication and not drunk driving. In a few hours, Ponch and Jon return to the courthouse and reveal that "Stan West" is one of multiple aliases. Meanwhile, the drunk guy is out driving again. Ponch and Jon chase him just before he crashes. This time he doesn't switch places with his wife because she flew out of the car window and died.
Later, the CHP deliver the babies to their new home. The transport goes quietly because they're all using "The Getraer Method".
Guest Stars
Special Guest Star
Co-Starring
Featuring
Crew
Fun Facts
During the pre-titles chase they go from Waterview Street to Rindge Avenue. A couple of the last remaining houses of Surfridge are visible in the background. View in Google Maps
The pre-titles crash was filmed just around the corner from Rindge Avenue on Napoleon Street.
Christine Belford and David Spielberg both appeared in Christine (1983). Christine played Arnie's mom and David was the teacher, Mr. Casey.
Mistakes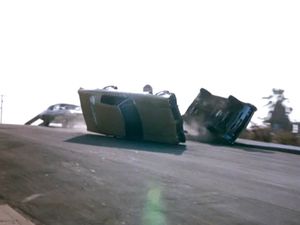 In the pre-titles crash, the ramps behind the middle car are clearly visible from both camera angles.
When Grossman calls in the ambulance accident, he gives the location as Jefferson at Normandie, but Ponch questions Stan West about a "bad accident at Pershing and Grand".
When the cheerleaders swap their second file, the cars are on S Hoover Street and pass through the intersection with West Adams Boulevard, but when the camera angle changes, the cars are turning left from Hoover onto West Adams.