Difference between revisions of "Undertow"
Jump to navigation
Jump to search
Line 34:
Line 34:
 
 
 

==Memorable Quote==

 

==Memorable Quote==

−

:"Sunshine, lollipops, and rainbows.  I mean, everything that happens to me today is gonna be right on!"

+

"Sunshine, lollipops, and rainbows.  I mean, everything that happens to me today is gonna be right on!"

−

:-Ponch

+

: - Ponch

 
 
 

==Cast==

 

==Cast==
---
Revision as of 21:14, 23 April 2022
Undertow
Episode #
1x02
Air Date
September 22, 1977
Briefing
Tow truck driver robbing women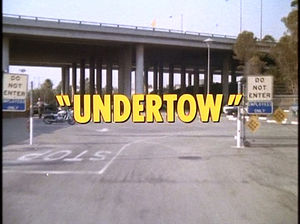 He's here to help...himself. A would-be tow-truck driver robs stranded motorists.
Summary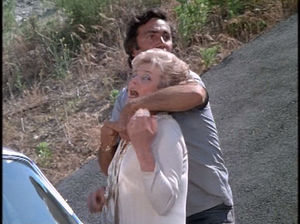 While Jon and Ponch talk about basketball, a report comes in over the radio about a disabled Mercedes on the Golden State Freeway (at call box 402). A tow truck driver who was listening to the police band beats them there and robs the driver. Jon stops to talk to the woman while Ponch chases the tow truck. The truck causes an accident with a truck carrying compressed gas canisters. Ponch stops for the accident and has to give up the chase. While checking on the driver of the "Katleman's Khemical's" truck, he inhales an unknown gas. The driver doesn't know what the gas is, but says that it's not explosive because everyone who was loading the truck was smoking. After Ponch gets him to safety, Brouillette and Jon arrive. Ponch and Jon head out and leave Fritz and Brouillette to handle the cleanup. Fritz spots a nitrous oxide label on one of the canisters and tells Brouillette "that stuff will really flip you out!"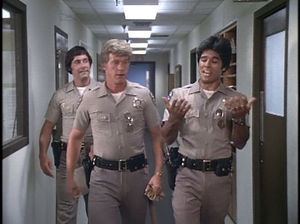 Upon returning to Central, Ponch begins acting loopy and drinks from a hose. (The viewers also learn he's seeing double.) Walking in, Officer Barkley asks Ponch if he "still got those hot hands?" Ponch claims they're always hot and that he'll "make many points. Many." He goofs around a bit, acts buddy-buddy with Getraer, and makes a personal phone call to a woman named Camile while Jon works on writing up a report.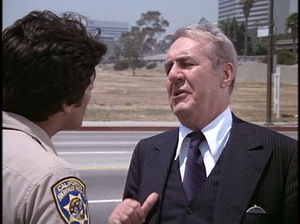 Out on the highway, Jon spots an erratic driver and Ponch finally gets him to pull over. The driver, played by Jim Bakus, is clearly intoxicated. Ponch tries to give him a sobriety test but can't do it himself. After giving directions to a woman, Jon realizes that Ponch is acting weird because he inhaled the gas at the accident. Just as Jon is about to get Ponch into a patrol car, Ponch hears a dispatch on the a disabled vehicle, he speeds off with Jon chasing him. After nearly rear-ending another disabled vehicle, Jon pulls over Ponch (in a classic "CHiPs" moment) and tells him, "The party's over, Hot Dog." Meanwhile, the tow truck shows up at the location of the disabled vehicle that was announced by dispatch.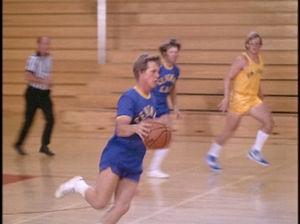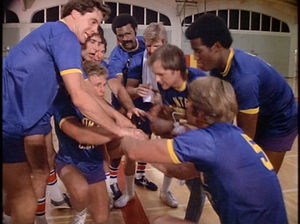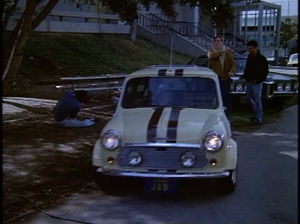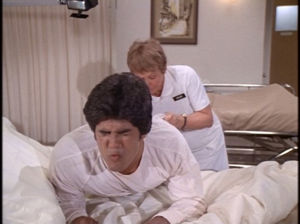 Later, on the basketball court, the "CHiPs" team loses without Ponch. After the game, Jon goes out to his little car and finds people sitting on it. When he is confronted, he kicks one of the guys in the knee. While Jon visits Ponch, in his first of many hospital stays of the series, Jon informs Ponch that they lost by 40 points and his girlfriend didn't show up to the game. Soon, a mean nurse takes his Ding Dong and gives him a shot in his rear end. He decides to stay for the sponge bath from the sexy nurse.
The next day, while discussing "sunshine, lollipops, and rainbows," a bird craps on Ponch's windshield. Stopping at a gas station to clean it off, they realize it's being robbed. While Ponch unties the gas station attendant, Jon chases the robber who ends up crashing his roofless, windowless, and doorless truck into a tree flinging him forward onto the ground. Jon gives him medical attention and psychiatric counseling.
Ponch shows up to the briefing with a doctor's note. Getraer asks the officers to respond as quick as they can to any call about a disabled female, but then stay back and see what turns up. He also informs everyone that they have been given a rematch for their basketball game.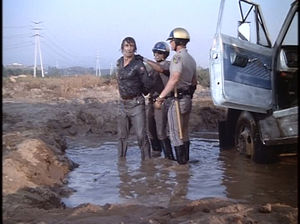 After the briefing, Jon gives a speeding ticket to an old surfer and his bird. While being entertained by a bird, Jon notices a tow truck "assisting" a woman. Ponch and Jon head over to check it out. When the tow truck driver spots the police motorcycles, he takes off and is chased north on the Golden State Freeway (approaching the Ventura interchange). The car in tow breaks loose and flips over. Ponch apprehends the driver when he runs into a dead end. (Ponch mentions his sister for the first time here.)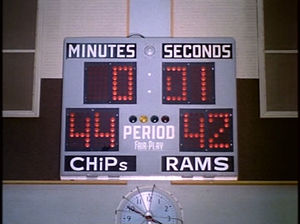 During the "CHiPs" vs. "RAMS" basketball game, the "CHiPs" are down 6 points with 55 seconds left. Ponch manages to score the winning shot in the final second.
Memorable Quote
"Sunshine, lollipops, and rainbows. I mean, everything that happens to me today is gonna be right on!"
- Ponch
Cast
Starring
Also Starring
Also Starring
Guest Stars
Featuring
Crew
Locations
The "deuce," played by Jim Backus, is eventually pulled over at the intersection of W. 2nd St. and S. Figueroa St.
Fun Facts
This episode has an unusually high number of Ponch close-ups.
This episode marks Ponch's first visit to the hospital.
Signs at the gas station at Sunland Blvd. and La Tuna Canyon Road advertise cigarettes at 47 cents per pack and gasoline for 57 cents per gallon.
Mistakes
The side of the truck that spilled the nitrous oxide containers shows "Katleman's Khemical's." There should not be an apostrophe in the second word since it is supposed to be plural, not possessive.
When Jon talks to the first victim, you can see call box "GS 402" in the background. When Ponch and Jon leave the scene of the accident, they pass by the same call box even though they're supposed to be further down the road.
When Ponch arrives at Central for the first time in this episode, he is greeted by an officer. The Spanish subtitles on the DVD say that Ponch is calling the officer "Partly". None of the character names from the credits seem to match up with what Ponch may have said. However, the same officer appears in Dog Gone and Getraer calls him "Barkley". Both the Portuguese and Spanish DVD subtitles confirm this.
When Ponch and Jon spot a "deuce" they are headed east on the Santa Monica Fwy. at the La Brea Ave. exit (sign shows Crenshaw Blvd., which is east of La Brea, as next exit); however, in a subsequent shot, the "deuce" exits the freeway at Fairfax Ave. (sign shows La Brea exit ahead).
Between the previous shots on the Santa Monica Fwy., Ponch and Jon are shown heading south on the San Diego Fwy. (405) as evidenced by the sign in the background for northbound traffic that shows Wilshire Blvd., Montana Ave., and Sunset Blvd. ahead.
After the chase hits city streets, the "deuce" turns from S. Hill St. on to W. 2nd St. heading northwest; however, this is nowhere near the Fairfax Ave. exit.
After leaving the hospital, Ponch meets up with Jon at Sunland Blvd. and Clybourn Ave., just north of the Golden State Fwy. They proceed to head north on Sunland Blvd. The Donut Star and 7-Eleven are still there. View on Google Maps. However, when they approach the gas station, they are heading south on Sunland Blvd. - the gas station is on the SW corner of the intersection.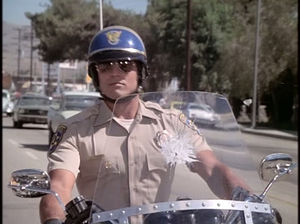 When Ponch's windshield gets hit by bird droppings, you can see a small white wrapper quickly fly off to his left.
While chasing the tow truck, Ponch calls in that they are northbound on the Golden State Freeway approaching the Ventura interchange. An exit sign shows that they are approaching La Tuna Canyon Road, which is an exit on the Foothill Freeway. View on Google Maps Although the two freeways are a few miles apart, La Tuna Canyon Road does not intersect the Golden State Freeway.
At one point during the basketball game, the game clock shows 33 seconds remaining. After we see Ponch make a basket, the clock shows 34.
Buy this episode