Tom Reilly
Jump to navigation
Jump to search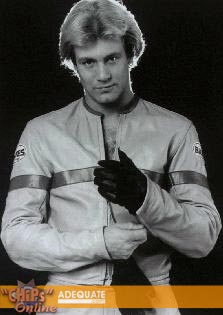 Tom Reilly (Officer Bobby Nelson) was born as Thomas Michael Reilly III in Fort Riley, Kansas on June 18, 1959. He is 6'2" tall. He went on to become a star football player at Montclair State College (now Montclair State University) in Upper Montclair, New Jersey but eventually dropped out.
Apparently, by the end of the last season, Tom fell out of favor with Erik. On December 21 1982, he was arrested for possession of a controlled substance, qualudes. This prompted Bruce Penhall's Bruce Nelson character to became Ponch's new partner.
After "CHiPs", he went back to acting school and took on some other roles. He retired from acting in 1997.
As of August 2005, he was reported as living on the Monterey Peninsula with his wife and two kids, ages 9 and 6 as of March 2007. He received his private pilot's license in October 2006. He says he does a lot of camping and loves to be near the beach.
Credits
Uptown Girls (2003) as Executive
Shades of Gray (aka Twisted Passion) (1997) as Frank Maxwell
Deep Cover (aka Checkmate) (1996) as Jim
Ice Cream Man (1995) as Charley
Caged Hearts (1995) .... Foreman #1
Valley of the Dolls (TV-1994) as Peter D'Allesio
Animal Instincts II (1994) as Man with Loose Tie
Mirror Images II (1994) as Jake
Sworn to Vengeance (TV-1993)
Animal Instincts (1992) as Ken
Married with Children - Just Shoe It (TV-1992) as Caterer
Kiss and Be Killed (1991) as Phil
Slaughterhouse Rock (1988) as Richard Gardner
Young Warriors (aka The Graduates of Malibu High) (1983) as Scott
Just Men! - episodes 1.7 & 1.13 (TV-1983) as Himself
The $10,000 Pyramid - November 15, 1982 (TV-1982) as Himself
"CHiPs" (TV-1982-1983) as Officer Bobby "Hot Dog" Nelson
Paper Dolls (1982) (TV)
External Links