The Strippers
Jump to navigation
Jump to search
The Strippers
Episode #
321
Air Date
February 16, 1980
Briefing
?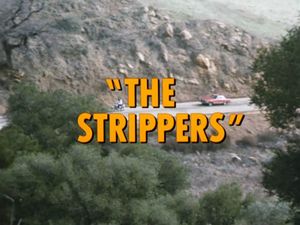 Brief Plot
A Mercedes belonging to Jon's girlfriend gets stolen while they're skydiving. Jon and Ponch's subsequent investigation results in them crossing paths with a pair of narcotics officers who are investigating a drug smuggling operation in the same area.
Plot
The show opens with skydiving. Upon landing, they see Jon's girlfriend Diane's Mercedes 450SL being stolen. Ponch and Jon drive after them in Jon's truck but have to stop to help an overturned truck.
After starting to strip the Mercedes, the strippers see a drug drop. The plane which lands after the drop is then secretly inspected by narcotics enforcement. The next day, Diane's car is recovered...stripped. We also see another drug drop. The "narcs" rush to investigate but are stopped by the "wheelie-boppers". Meanwhile, the drugs are brought to the "Bar X Ranch" and the car strippers legally buy back the stripped car. That night, Diane sees her Mercedes at a restaurant...assembled.
The next day, Ponch and Jon are at Brigid's Cafe when Grossie walks in and buys Jon's uneaten lunch. Meanwhile, the strippers steal another car that happens to speed by our favorite "wheelie-boppers". Unfortunately, Ponch and Jon miss the turn off and lose the strippers but find the narcs. The next day, Ponch and Jon go hiking looking for the car strippers and are caught by the drug dealers. Ponch and Jon are let go and find the car strippers who tell them they say something dropped from the plane. Jon realizes the best way to catch the drug drop in action is skydiving.
After the drop is made, Ponch and Jon jump down to catch the drug dealers red handed. As a reward, Ponch and Jon get strawberry ice cream cones just outside of Brigid's Cafe.
Guest Stars
Co-starring
Crew
Fun Facts
Evan Kim (Zale) went on to get a role on the right side of the law when he played "Dirty" Harry Callahan's partner in The Dead Pool (1989).
Morgan Woodward (Dexter) is also better known for being a lawman. He was Boss Godfrey in Cool Hand Luke (1967).
Mistakes