The Poachers
Jump to navigation
Jump to search
The Poachers
Episode #
404
Air Date
October 19, 1980
Briefing
?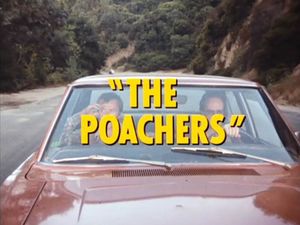 Brief Plot
A couple of poachers are trying to catch deer in the woods, but are thwarted by a man who's taken his grandson there to teach him about his heritage.
Plot
Guest Stars
Special Guest Star
Co-Starring
Crew
Fun Facts
Cassandra Gaviola (later credited as Cassandra Gava) played the witch in Conan the Barbarian (1982).
Michael Ansara rose to fame playing Cochise on the popular 1950s television series Broken Arrow.
The Malibu Grand Prix track used is this episode was the one in Pasadena. The Kaiser Permanente Medical Offices and car park now stand on the site. View in Google Maps
Mistakes
When Jon and Ponch find the crossbow arrow, Ponch says "We got the address on that pickup. Let's have another go at those guys." The poachers were driving a sedan at the beginning, not a pickup.
When Jon and Ponch pull up at the crash caused by the ladies with the dog, the interior shot shows a blue Ford semi cab directly behind them, but there are no trucks in any of the wide shots and no vehicles behind them.