Tail o' the Cock
Jump to navigation
Jump to search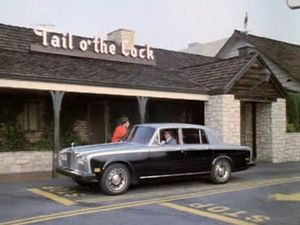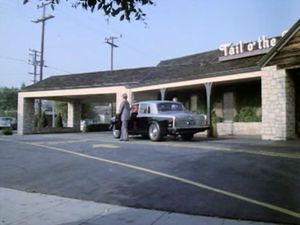 The Tail o' the Cock was a well-known restaurant on Restaurant Row in Beverly Hills. It was located at 477 South La Cienega Boulevard (there was another at 12950 Ventura Boulevard that was popular with stars like Clark Gable, Bette Davis, Humphrey Bogart and Gene Autry). Shelton McHenry opened the restaurant on La Cienega in 1939, and sold it in 1982. It closed in February, 1985.
The Tail o' the Pup, a neighboring hot dog stand in the shape of a hot dog, was located at 311 North La Cienega Boulevard. It faced demolition in the mid-80s, but moved to 329 North San Vicente Boulevard. In 2005 it was moved to storage while a suitable new location was sought. The City of Los Angeles has since declared Tail o' the Pup to be a cultural landmark.
Tail o' the Cock head barman Johnny Durlesser is one of the rumored inventers of the Margarita cocktail, although there are many conflicting stories.
A Rolls Royce was stolen from the valet parking here during "Name Your Price". The car approached and left on North San Vicente Boulevard.
External links