Roller Disco: Part II
Jump to navigation
Jump to search
Roller Disco: Part II
Episode #
302
Air Date
1979
Briefing
?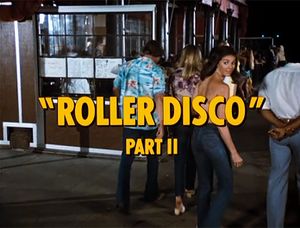 Brief Plot
Jon lets troubled popstar Jimmy Tyler stay at his apartment. Getraer is getting worried at Ponch's lack of stars for the roller disco. The robberies near the beach continue.
Plot
Starting with a bit of a re-cap, we continue from where Part I left off.
Jon loses the skater he was chasing.
Meanwhile, Ponch is still looking for his but can't find him. Luckily Ponch comes up with a plan just before the theme.
After riding the carousel, Ponch and Jon ask their roller disco teaching friends to show them the neighborhood. After walking their dates home, Ponch and Jon go to the roller disco rehersal. The next day, Jimmy is managing his hectic life in Jon's apartment with the stereo turned up. Out on the freeway, the anti-tailgaters are still at it and causing accidents. Our heroes find them and chase them. Ponch and Jon make the arrest after the anti-tailgaters back into a telephone pole.
Back at Jon's apartment, Jimmy is making lots of noise and making calls to London. Jon has a talk with him while Ponch has a talk with Balford, Jimmy's agent. The next day, the roller skating thieves rob a bank. Ponch and Jon respond and are helped by Bonnie and Mark, the kid who held onto the car bumper. Bonnie arrests the woman while Ponch arrests the man in the white shirt and Jon and Mark get the guy in the black shirt.
Brace yourselves, it's time to Skate with the Stars! It can't be summarized in words. Just when you thought it couldn't get worse, there's the "First-Ever Roller Disco Beauty Contest". That's followed up by a live performance of "Give In" given by Jimmy Tyler. The episode ends with Jimmy and Balford getting back together.
Guest Stars
Co-starring
Crew
Fun Facts
Mistakes