Mrs. Downey
Jump to navigation
Jump to search
Mrs. Margaret Downey
Actor
Marjorie Bennett
Appears in
Season 1 (3 episodes)
Call Numbers
N/A
Badge Number
N/A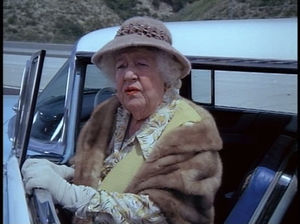 Mrs. Margaret Downey was an 85 year-old woman who was always giving officers Baker and "Ponchereblo" a hard time. She drives a vintage 1956 Cadillac.[1]
Mrs. Downey's first encounter with Jon and Ponch was when she was entering the Golden State Freeway on an exit ramp. She was pulled over and Ponch turned her car around for her. As thanks, she gave Ponch cookie crumbs to give to Jon.[2]
Not long after that, Mrs. Downey showed up at Central where she was complaining to Barkley about a $2 parking ticket she got from the LAPD. Nevertheless, Jon agreed to take care of it. He sent her on her way and she gave him a chocolate chip cookie. "Have a chippie, CHiPpie!" Jon paid the $2 fine himself rather than try to explain the difference between the CHP and LAPD. According to Mrs. Downey, "You're all in cahoots!"[3]
Mrs. Downey's third and final encounter with the CHP was when her car was stolen while she appeared to be buying booze. She went to Central the next day and demanded her car. To get her out of his hair, Getraer had Baricza drive her home. She was fond of Baricza, but had him going in circles looking for her car. He finally drove her to her home at 4300 Arcadia Street. When the CHP recovered her car, she showed up in a taxi at the thieves' warehouse and drove her car out herself, backing into Getraer's motorcycle in the process.[1]
Had she survived, Mrs. Downey would have been about 106 years old by the time of "CHiPs" '99.
References