Motorcycles
Jump to navigation
Jump to search
The motor officers in "CHiPs" ride Kawasaki KZ-900 and KZ-1000C1 motorcycles which they friendly call "motor". Ponch almost won the street model (a 1978 Kawasaki Z1-R) on a game show in "Name Your Price".
This is a picture of the KZ-900, it's used in season one and season two.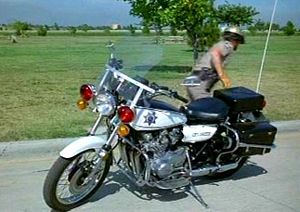 The KZ-1000C1, used from season 3, has a bigger windscreen and front fender, smaller pursuit lights and other little changes.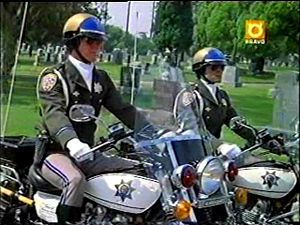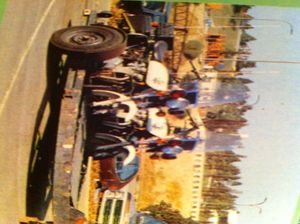 They used the same trailer for season 3 as they did in the first two seasons. The bikes on the trailers were KZ-900 and those had the big pursuit lights and other windscreen. Because the difference would be visible, they removed the KZ900 windscreen and put a KZ1000C1 windscreen on the bikes but they forgot to replace the pursuit lights (they are bigger on the KZ900) and the metal frame below the headlight (missing on the KZ900). In those years CHP tried other motorcylces such as Moto Guzzi Eldorado (California), Honda 750 and Suzuki 850 (this last one can be seen in the background at Central parking lot), all those motors looked really similar because of the Department specifics such as saddle bags, radio box and pursuit lights so it is not easy to spot the differences.
Erik Estrada owns one of the KZ-1000C1 bikes which was used in the series. Note that the engine was taken out.
In "CHiPs '99", the CHP used new BMW R1100RT-P motorcycles.