Home Fires Burning
Jump to navigation
Jump to search
Home Fires Burning
Episode #
412
Air Date
February 1, 1981
Briefing
?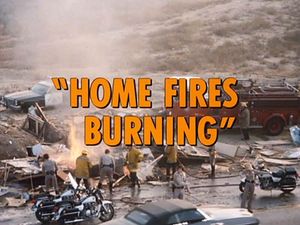 Brief Plot
A pair of arsonists are torching RVs for a cut of the insurance money. Grossman is organizing an exhibition basketball match, and Ponch is missing for most of the episode following up on an idea.
Plot
When Ponch finds out Grossie is organizing a basketball team for an exhibition game, Ponch gets an idea and takes a few days off. Later on, Jon and Grossie tell a man to pull over before he changes his flat tire. Minutes later up the road, two men blow up a mobile home. While Jon and Grossie question a kid who witnessed the explosion, Grossie loses the kite he was flying. Later, the CHP team practices for basketball and meet the opposing team.
Out on the highway, a mobile home owner on a fishing vacation pulls over to fix a flat and someone drives up through his entire home. Meanwhile, two guys try to burn a mobile home for the insurance money while the security guard was inside. Jon and Baricza manage to get him out and save the smoked out home. When the owner arrives, his story is conflicting and he has to tell the truth and face a possible murder charge.
Later, Jon finds the wife of the fisherman walking towards Disneyland and reunites her with her husband. When the arsonists try to burn the motor home again, Baricza chases them and Jon soon joins in. While Baricza captures one guy, Jon pulls the other guy from his rolled-over van. At the basketball game, Central CHP is warming up when Ponch brings in his recruits. As it turns out, Central is the only station without a 7 footer. Everyone is shocked when the other team comes in on unicycles. After Sarge remembers seeing them at the circus, the CHP sits out to enjoy the show. (Note: Jon and Ponch are wearing #'s 3 and 4...which are their call numbers.)
The next day, we find out that the watchman will live and that the one that setup the silly basketball game was the Captain.
Guest Stars
Co-Starring
Special Appearance By
Crew
Fun Facts
Adam Roarke appeared in several biker movies in the '60s, and starred alongside Peter Fonda and Susan George in Dirty Mary, Crazy Larry.
The kite flying scene at the beginning was filmed by the Los Angeles Aqueduct Cascades near Sylmar. View in Google Maps
The RV storage facility was North Valley Storage on Foothill Boulevard. It's now called Nova Storage and is mainly self-storage units, but their website does still mention RVs. View in Google Maps
Mistakes
In the accident caused by Frank crossing the road, the green car (nearest the camera) skids through just over 90 degrees, ending up broadside to Frank. Seconds later when Jon arrives, the green car is facing Frank.